Jr. Member
Join Date: Nov 2012
Location: Goodyear, Az
Posts: 3
Ok.. Doing my first oil change on the bike. I'm mechanically inclined, been working on cars for quite a few years. I see everyone talking about having it on the rear stand to drain the oil. Is this necessary? I don't have one and don't have the money for one at this time. But I need to do the oil. Just curious before I do it. Thanks
Intermediate Member
Join Date: Oct 2008
Location: Davenport, IA
Posts: 1,224
When draining your going to have to hold it upright to drain it all the way and your just gonna have to be careful when you fill it to not overfill or under fill it since it has to be measured when level. Not necessary to have a rear stand but it does make it easier.

Sent from my SAMSUNG-SGH-I727 using Motorcycle.com Free App
Jr. Member
Join Date: Nov 2012
Location: Goodyear, Az
Posts: 3
Ok cool. I park the bike on a 3ft x 4 1/2ft rubber mat. That's about 1/2" thick.. And with a piece of 2x6 block underneath its damn near completely upright. Looks like I don't need a stand after all lol. Thanks for the help. It's draining right now
Jr. Member
Join Date: Feb 2009
Posts: 25
If I may,
to possibly solve the oil filter spill issue,
Why don't you slightly tilt the bike to the left side so the remaining oil in the engine can pour into the oil filter, and since its tilted to the left, the oil should generally stay in the filter and not all over the bike.
If this is a crazy suggestion i do appologize lol .. I will be picking up my new 2013 636 in January, I've seen where the filter is on the bike (same as 2012), so I'm not trying to figure out ways I can keep the oil in the filter or bike lol
I changed the oil the first time without a rear stand. the rear stand makes it easier for quite a few reasons - clearance under the bike for the oil drain pan, easier access to the drain bolt, and as already mentioned, oil drains a little easier when it's not leaning on it's side.
I used a piece of cardboard under the oil filter, cardboard creased in the middle, to get any 'spilling' oil to flow where you want it. also, a gallon ziplock bag, around the filter always works well too.
Jr. Member
Join Date: Jan 2014
Posts: 3
just ordered some motul 300V to do my oil change this spring. I have 2 OEM kaki filters, anybody know how these compare to others?
---


2009 ZX6-R
- Graves Exhaust - Pazzo Shorty Levers - Puig Double Bubble Windscreen - 1 down front sprocket - Purple DRL corner lights -

The OEM oil filter is probably the best because it was designed to the bike manufacturers specifications for maintaining the correct oil pressure. I like to safety wire things like filters since my bike does track duty so I tend to prefer the K&N filter with the safety wireable bolt on the end. To safety wire the OEM filters one needs to get a bit "creative."
With a hose clamp. (stolen from a gixer forum, not a ZX-6R)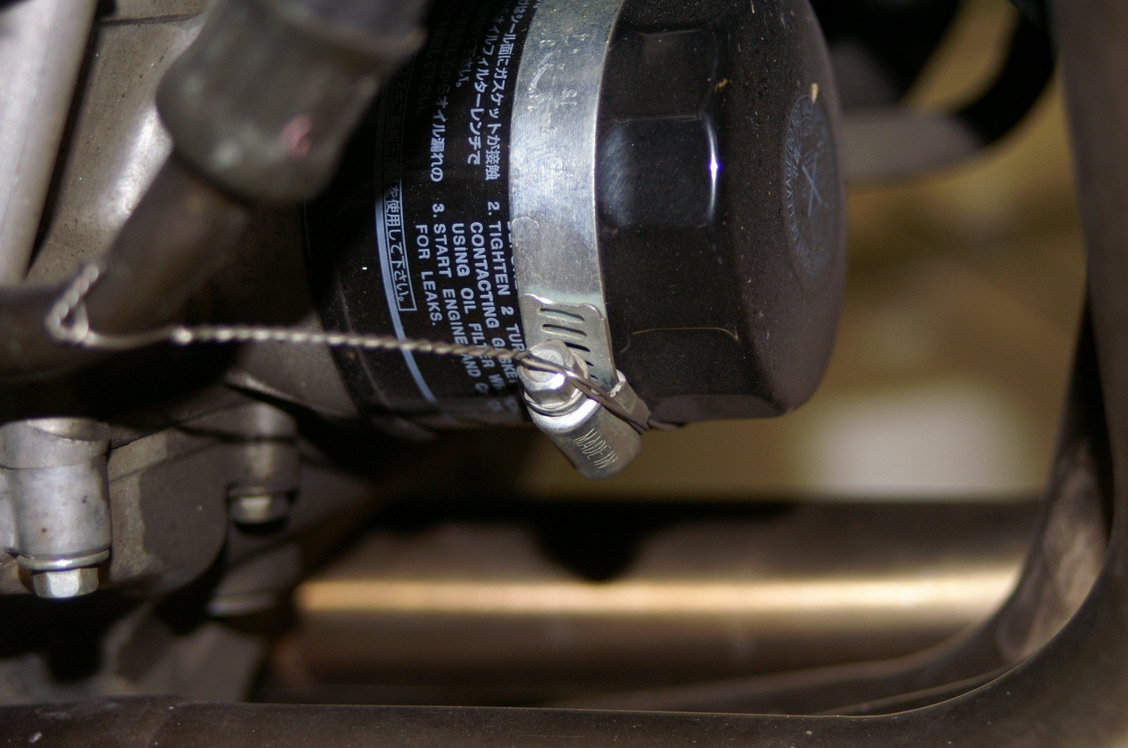 ---
When you turn your bike on, does it return the favor?
Unfortunately, the space available to attach a hose clamp and run safety wire is a little "tight" with the '09-'12 zx6r..... To say the least! Especially with that oil deflecting lip that sits directly under the filter getting in the way...
Posting Rules

You may not post new threads

You may post replies

You may not post attachments

You may not edit your posts

---

HTML code is Off

---