Excuses excuses excuses...vortex rearsets that are set to stock...lol all jokes though, thunderhill is a very technical track and that's pretty cool you were there.
Going back in Nov with:
Hope to see you there with us in "A" Group
---
2006 Kawasaki ZX6R SE - Goodbye 1st love...
2007 Triumph Daytona 675 -
dead... Hello
2009 Kawasaki ZX6R Monster
2009 Kawasaki ZX6R Built RACEBIKE
Maybe I can drag down a 250 then to harass you guys.
---
2007 Kawasaki EX650 street/track 636 forks - Hyperpro shock - Woodcraft - LeoVince - Dynojet
2003 Yamaha R6 race/track Ohlins - Arata - Vortex - Woodcraft - Dynojet
OMRRA Expert # 440
Sprorchid,
Nice wheels, I dont know why soo many people are giving you a hard time about putting BST's on your bike. My buddy has BST's on his R6 track bike, and they make a huge difference on the track. If I could afford BST's, I would have too, Instead I went with Carrozzerria's for my track bike.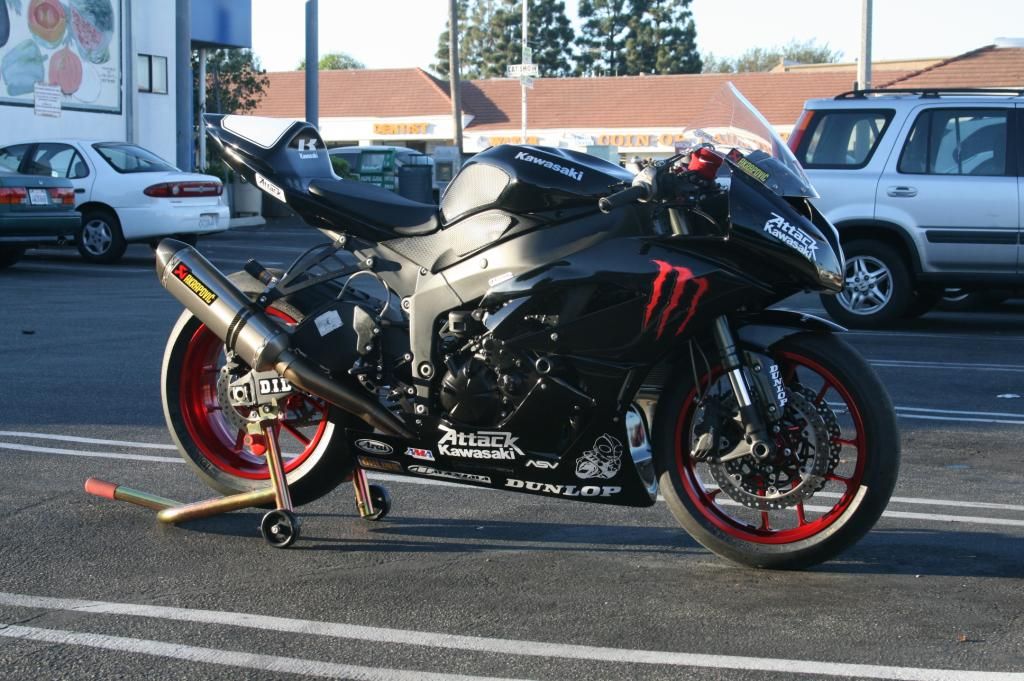 I have carrozzeria tri r's on my cbr 1krr
definitely good for the price.
yeah, there will always be haters. no biggy, I think it's hard for the boyz to enjoy a gal that has her priorities straight. I mean I could have spent it on jewelry.... NOT!
for the haters on the TBR slip on, I was waiting for jardine to come out with their gp-1r full exhaust, motogp style, but it's still in R&D... then Jardine got bought out.
As if Jardine isn't as crappy as Two Brothers in the first place.
---
2005 ZX-10R Street and Track Whore
Steve Mcqueen Wannabe!
Join Date: Aug 2007
Location: Hermosa Beach, California,By way of England.
Posts: 36,811
Yeah they cant touch Akro, Leo Vince etc.
---
05 636 * K&N Air * SS Goodridge frt T-lines * Arata Rearsets * PCIII * Akro Slipon-micron headers* GPR V1 Damper * Michelin Pilot Ones* Elka Triple shock *Nissin calipers* Ohlins 20 mm forks* Keyless entry*
what Bikes are about
Hooligan
Join Date: Mar 2010
Location: edmonton,ab
Posts: 1,704
That gp1r looked like a taylormade knockoff


Poo either way. Ur better off with the tbr full
So new riding buddy was checking out the BSTs on new yrs day. big dude, down on his knees to get up close to the BSTs, and he mumbles to me, "Damn girl you selling dope? how can you afford BSTs?" It made me chuckle and I wish I had a better comeback than what I said... good laugh for the new year.
you didn't ask my comeback... I said with a smile, 'I'm single.' they have seriously held up well.
Posting Rules

You may not post new threads

You may post replies

You may not post attachments

You may not edit your posts

---

HTML code is Off

---