View Poll Results

: VOTE NOW~~~

goingtoscotland http://www.kawiforums.com/2442428-post2.html
13
24.53%
ross93 http://www.kawiforums.com/2444432-post6.html
3
5.66%
alcatranz518 http://www.kawiforums.com/2444755-post7.html
3
5.66%
acidburn http://www.kawiforums.com/2445355-post17.html
28
52.83%
Souleh http://www.kawiforums.com/2446633-post29.html
0
0%
Justin W. Galletta http://www.kawiforums.com/2447162-post38.html
2
3.77%
wendle http://www.kawiforums.com/2447423-post39.html
4
7.55%
Voters: 53. You may not vote on this poll
June 2011 BOTM ~~~Congrats! to acidburn~~~
---
Congrats! to acidburn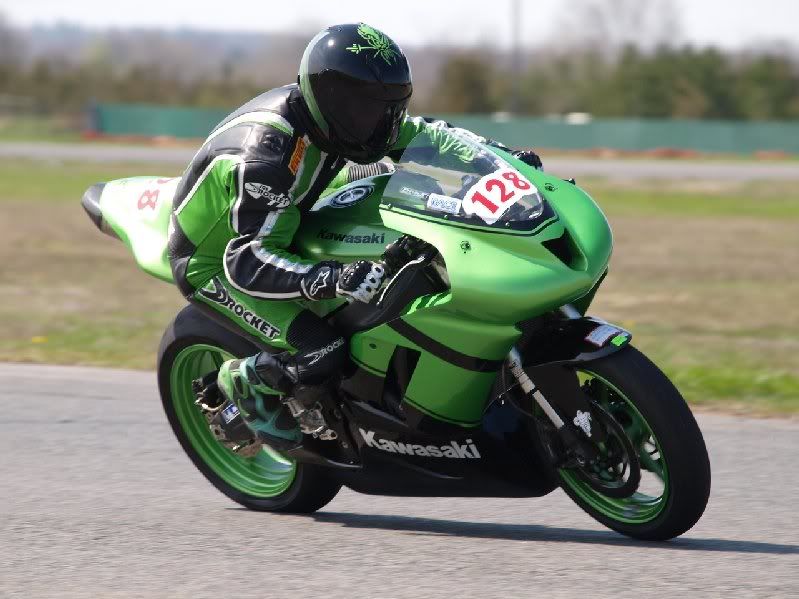 The more info you give us, the better your chances.
Your entry must contain the following information:
Year:
Model:
Accessories:
Mods:
And the story:
And a Picture of course
Bike of the Month Rules:
1. Must be a Kawasaki.
2. The bike must be currently owned by you. No exceptions.
3. Entries without all the required information are not eligible.
4. Don't clutter the entries or the forum with unneccisary posts or threads. Entrants can create a new thread in the BOTM section for discussion of their entry with the members, but only entries placed in THIS thread for THIS month will be eligible.
5. Winners are only eligible once per year. No re-entries by previously featured BOTM's please.
6. Only ONE POST per entry. We don't want 5 posts with a bazillion pics. One post is enough. If we want more pics, we shall request them.
7. You must have at least 100 posts to enter, or have been a member for at least 3 months.
The first 10 people to enter this contest correctly will be entered officially. Once we have all 10 entries (I will delete the incorrect ones), then I will add a poll and it will close on the 25th, declaring a winner.

Voting will begin on the 15th regardless of how many entries are in (max 10)
---
"I always feel a little better after a ride" ~52k miles so far
---
Last edited by joonyaboy; 06-27-2011 at

09:29 PM

.
2005 ZX-10R
23,000 miles, but it might as well only have 3,000, it's that clean.
Scotts steering damper
Brembo front master cylinder
Goodridge stainless brake lines front and rear
Nissin front brake calipers
Vortex rearsets
Akrapovic slip on
Attack Performance exhaust hanger
OEM Seat cowl
Puig DB windscreen
Carbon Fiber front fender
Fender eliminator
Integrated tail light/turn signals
SpeedoDRD
K&N Air Filter
HIDs
Driven 520 conversion, down 1 tooth in front
Renthal Superbike grips
Woodcraft frame sliders(last pic only)
TechSpec Snake Skins tank grips(last pic only)
And I also have a set of Rockwall track/race bodywork on the way.
The story is that almost 3 months ago I was riding home from work on my 636 when I was rear ended by a drunk guy on a Harley. ripped up my right leg and totaled the bike(bent swingarm, shattered wheel, rashed and cracked plastics, stator cover, forks). 2 months later my insurance company finally settled and the next day I went out and bought this amazing bike. I just can't wait until my race bodywork gets here so I can take it to Jennings
track bodywork installation almost complete. a few little things to do, drill for the dzus on the lower fairing, clean up the left slider hole, notch for the seat mount tab and bolt, and paint.
---
2005 ZX-10R Street and Track Whore
---
Last edited by goingtoscotland; 06-16-2011 at

10:49 AM

.
Jeez GTS, your bike apparently has scared off the competition!!
---
84 Kawa 750 Turbo
15 psi, Bov and other stuff
HANG ON
May 2011 BOTM WINNER
i guess so...

108 views and none of them felt like entering?
---
2005 ZX-10R Street and Track Whore
Weird?
---
84 Kawa 750 Turbo
15 psi, Bov and other stuff
HANG ON
May 2011 BOTM WINNER
dammit i want your 10r
heres mine
2003 zx6rr
its got a pc3, k&n, jardine exhaust, hyperpro rsc damper, crg levers, shogun sliders, block off plates, windscreen, new blinker and tail light and a 07 shock thats not on yet.
its my 3ed bike had it 2 or 3 years and its in very good condition
---
03 zx6rr jardine k&n pcIII hyperpro crg ivans
---
Last edited by ross93; 06-13-2011 at

09:58 PM

.
LoudViking, you should toss that '84 turbo in here!
Scotland, Killer 10, can't wait to see the new bodywork on her.
I'll have some fun and give it a try again and break up some green with a bit of Tangelo...
I volunteer as a race marshall in my spare time at a road course here in NE Ohio (and have raced 4-wheels for years and love all sorts of racing with left AND right turns
) and was bit by the bug to finally buy a supersport. One day, I went to a local dealer tried several sport bikes on for size, but nothing "fit." The salesman said "well, I do have an old Ninja in the back if you wanna see it. It was traded in a week or two ago and we haven't done anything with it yet." So I went into this repo-garage looking area filled bar to bar with bikes and there she was. When I sat on her the Heavens opened and Angels sang... I KNEW I had to own this bike. I obsessed horribly that night and I went back the next day and picked her up. She started off the BEAUTIFUL titanium, but my bud Tony painted his 636 "Limetime", chromed his wheels and polished his frame over the winter. After I saw how nice that pearl House of Kolor paint and chrome looked on the curves of the 636, I picked out the Tangelo/ black theme, and away we went on mine. ALL mods on this bike were done by me with the help of my good bro Tony.
Mods:
-
House
of Kolor Tangelo paint with extra gold flake
- Tangelo matched solo seat
- Tangelo matched sprocket
- Tangelo matched front brake rotors
- Powder coated gloss black OEM rims w/ reflective orange rim tape
- Shinko
tires
(new set o' Dunlops waiting to be mounted)
- MDI carbon fiber heal guards
- MDI carbon fiber tank trim
- Carbon Fiber frame sliders
- Carbon fiber tank guard
- Lowered 2" rear/ .75" front
- Black stainless brake lines
- HH sintered pads front and back
- RK 520 Chain
- Pazzo levers
- GPR Steering Damper
- Jardine RT-1 Slip on
- BMC race filter
- Exhaust wrapped midpipe
- Jumper mod
- SML Designs billet "vortexed n' staggered" Velocity Stacks
- Power Commander PCIII w/ custom tune
- 4300k HIDs
- Progrip hand grips
- Flush mount orange turn indicators
- Orange Integrated taillight
- Painted engine/ clutch covers black
Day of purchase: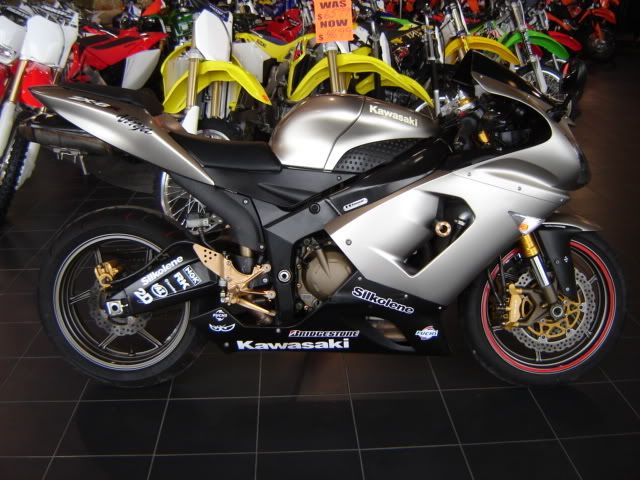 Now: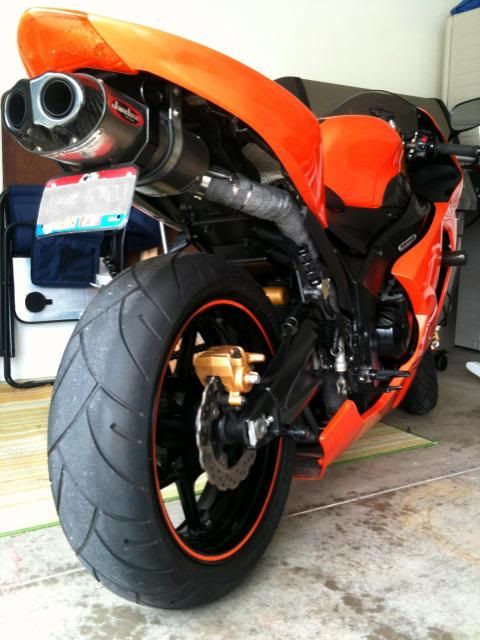 ---
Last edited by alcatranz518; 06-06-2011 at

02:48 PM

.
Quote:
LoudViking, you should toss that '84 turbo in here!
the one he one with last month?
---
2005 ZX-10R Street and Track Whore
Lifetime Premium
Join Date: Nov 2008
Location: rm. 187,psych ward,southern maine '07 ZX14R, '95 ZX7
Posts: 15,213
won
---
Quote:
a beer-drinking, pot smoking, naked bike trashing hillbilly like you has an iPOD Touch ??--cobra
Quote:
"Blah blah my bike is faster than yours around a technical track". Yawn. Well I on my feet can beat your small bike in a race of 100 laps around my couch
Posting Rules

You may not post new threads

You may not post replies

You may not post attachments

You may not edit your posts

---

HTML code is Off

---