Botm entry june: 2004 zx10r fighter
---
little confused how to enter, but here is my nearly complete project
take note, this is how you fighter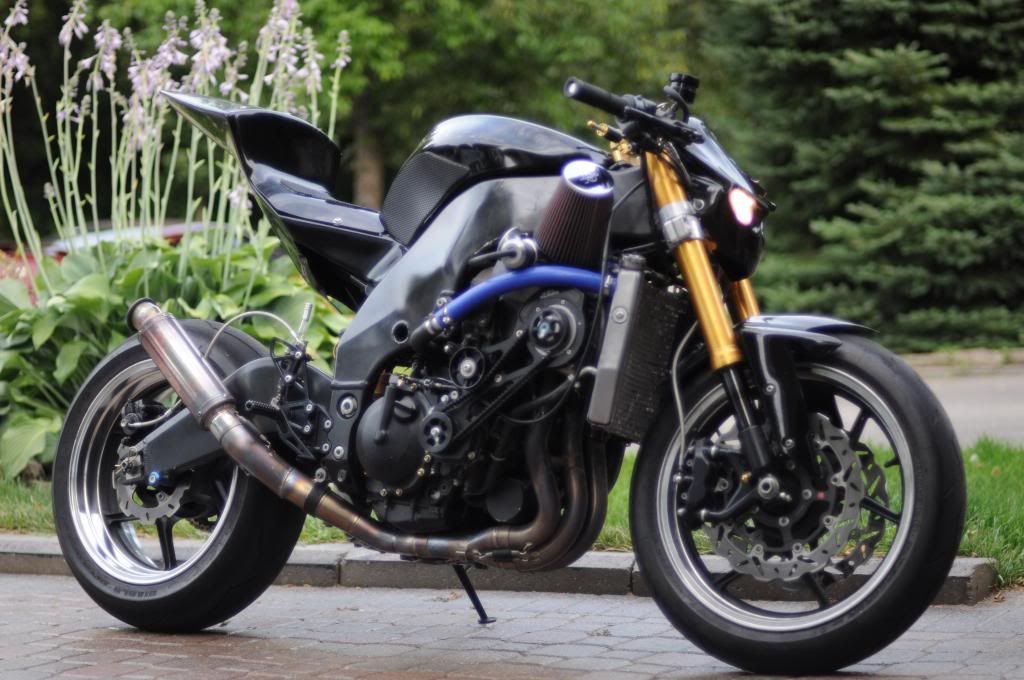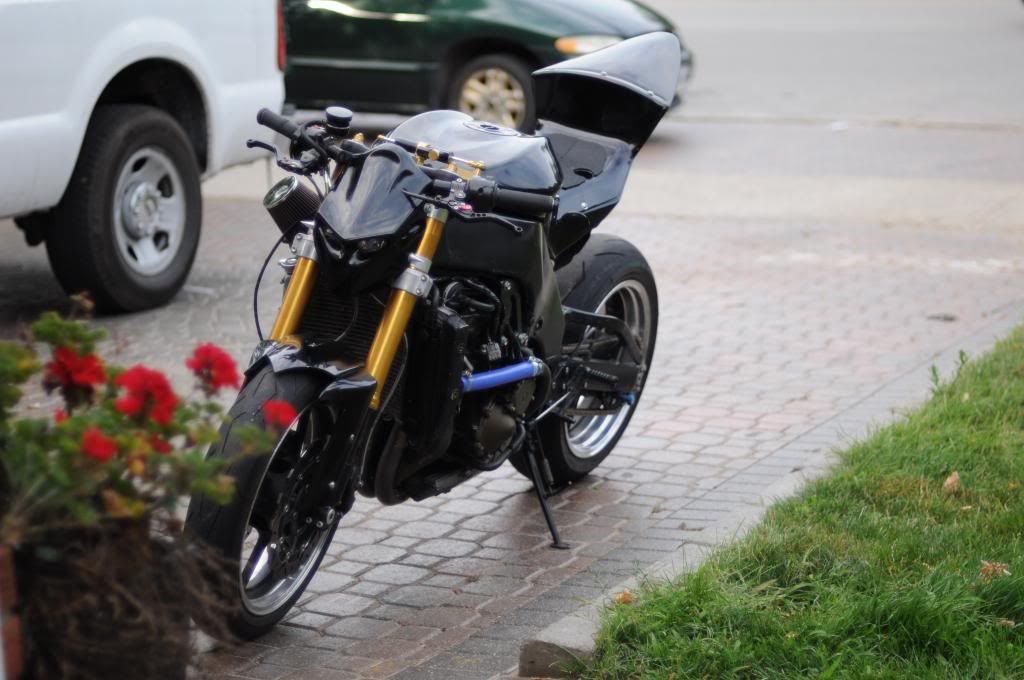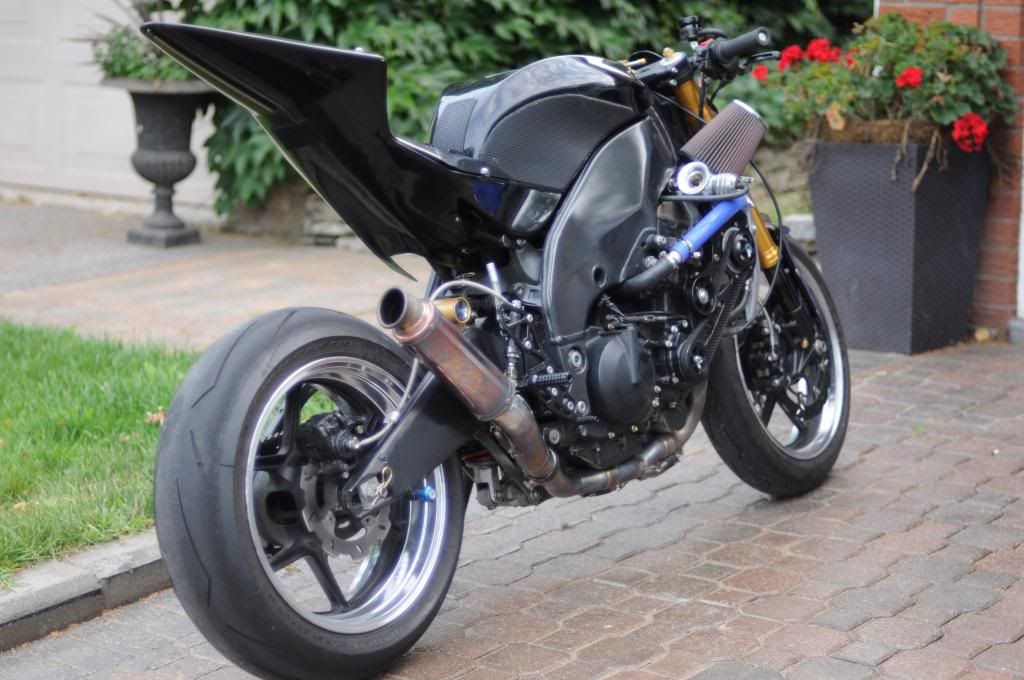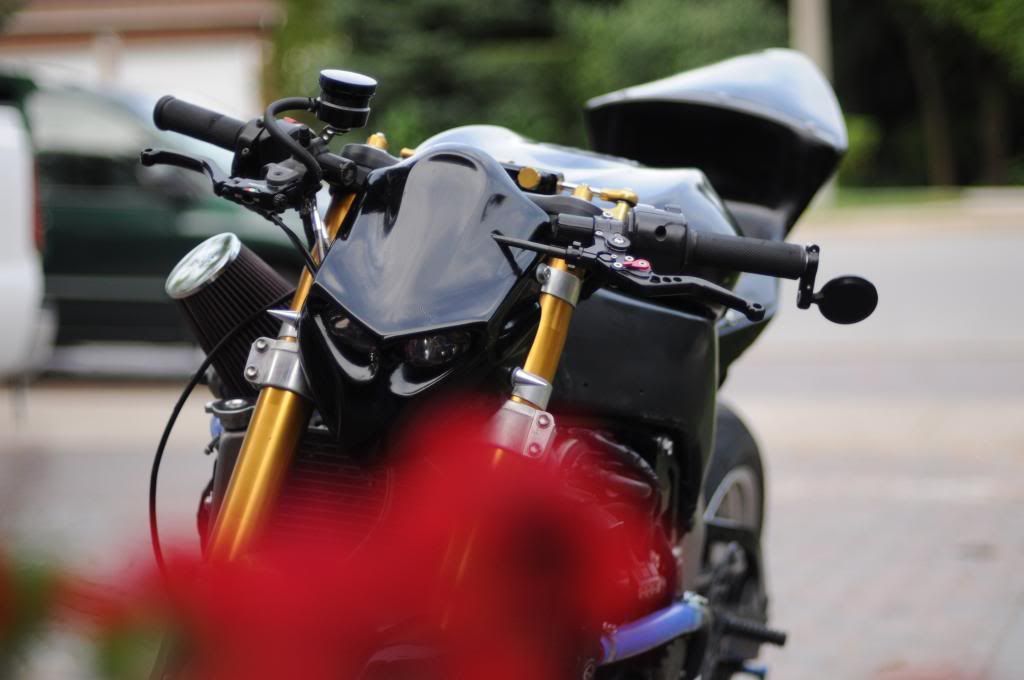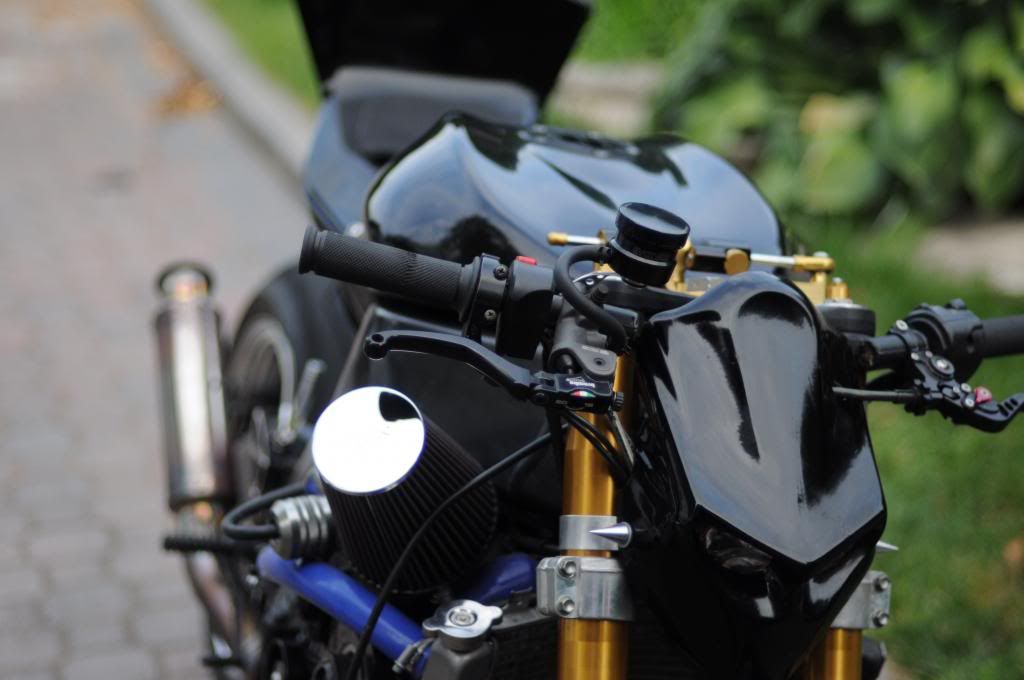 Year: 2004
Model: zx10r
Accessories:
braking full floating rotors
08 cbr1000 calipers
hh pads
goodridge steel braided lines
brembo 19rcs shorty pazzo lever
crg ss clutch perch shorty
evotech res
crg barend miror
custom headlight dual 35 watt
vapor stealth gauge(in the mail..)
trailtech ext coolant temp sensor
hyperpro rcs stabilizer
aaperformance supercharger kit
turboxs rfl bov
stronger clutch springs
akra ti header slash cut
vortex rearsets
haris 1/4 turn fuel cap
techspec tankgrip not pictured
goodridge rear line
braking wave rotor
ballistic 8 cell racing battery
radiantz brakelight
pc3
Mods:
moded fender
polished wheels
flipped clippons
ignition smoothed from top clamp
highbeam switch ignition
ktm rc8s tail section
anything it dont need to go stop or turn is binned
reinforced frame
And the story: Totaled my 636 and baught my dream bike an 04 zx10, it pretty much stock and very mint, rode it for a few weeks and was dissapointed with the power, so I baught a supercharger kit from a&a performance, while testing the supercharger with no fairings I realised naked is 10x more fun, then it all went from there, my goal was to make this bike live up to its widowmaker name, and at the same time look like it will murder you, i believe I have succeeded this thing is nucking futs to ride
---
Last edited by GreenGoblin636; 08-08-2013 at

07:35 PM

. Reason: mistake
Dude that thing is INSANE!

I do have to ask though .. what's with the lower tail under the seat? Looks like it's just hanging.
---
Thanxs!
Like i said, nearly complete
that open section is where the subframe for the ktm rc8 goes, i needed to get it on the street for spring and had no time no fiberglass it, this winter it will be completely stripped and "finished"
Lifetime Premium
Join Date: Nov 2008
Location: rm. 187,psych ward,southern maine '07 ZX14R, '95 ZX7
Posts: 15,213
That's a killer machine.
---
Quote:
a beer-drinking, pot smoking, naked bike trashing hillbilly like you has an iPOD Touch ??--cobra
Quote:
"Blah blah my bike is faster than yours around a technical track". Yawn. Well I on my feet can beat your small bike in a race of 100 laps around my couch
Very sexy bike.

Sent from my PC36100 using Motorcycle.com Free App
---
2007 ZX6R + KR Tuned Exhasut
2009 KLX250SF + FMF POWERCORE

Yea if you havent notcied im back and so is my spelling!!!!
Jr. Member
Join Date: Nov 2011
Location: Los Angeles
Posts: 65
i wouldn't mind taking that badboy for a spin...
Member
Join Date: Oct 2011
Posts: 423
Looking good! Am I missing the brake light somewhere?
Fuggin supercharger...nice.
---
Quote:
But cat balls are adorable, have you seen them?! They are like fluffy pompoms right under their butthole.
Quote:
well...correct me if I'm wrong...but his wife is Asian...maybe she thinks feeding a dog all this "bad food" is like grass feeding a cow.
Helps with the flavor.
Very nice machine.
---
6 bikes and counting.
Posting Rules

You may not post new threads

You may not post replies

You may not post attachments

You may not edit your posts

---

HTML code is Off

---