Jr. Member
Join Date: Dec 2012
Posts: 4
Jr. Member
Join Date: Nov 2012
Location: Scurry, TX
Posts: 53
This is the day I bought it. I initially went in to look at the Ninja 300, but the 650 ended up fitting my budget.
First day riding to work
My fiancee waiting for me to gear up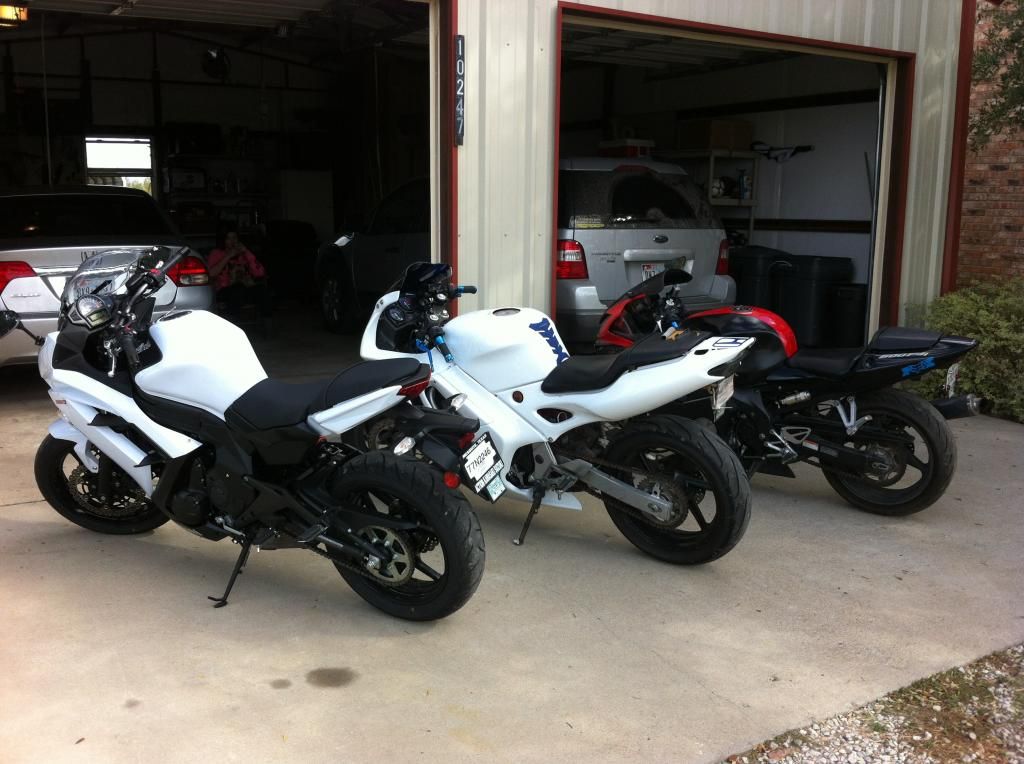 From left to right: 2013 Kawasaki Ninja 650, 1997 Honda CBR 600F3, 2001 CBR 600F4i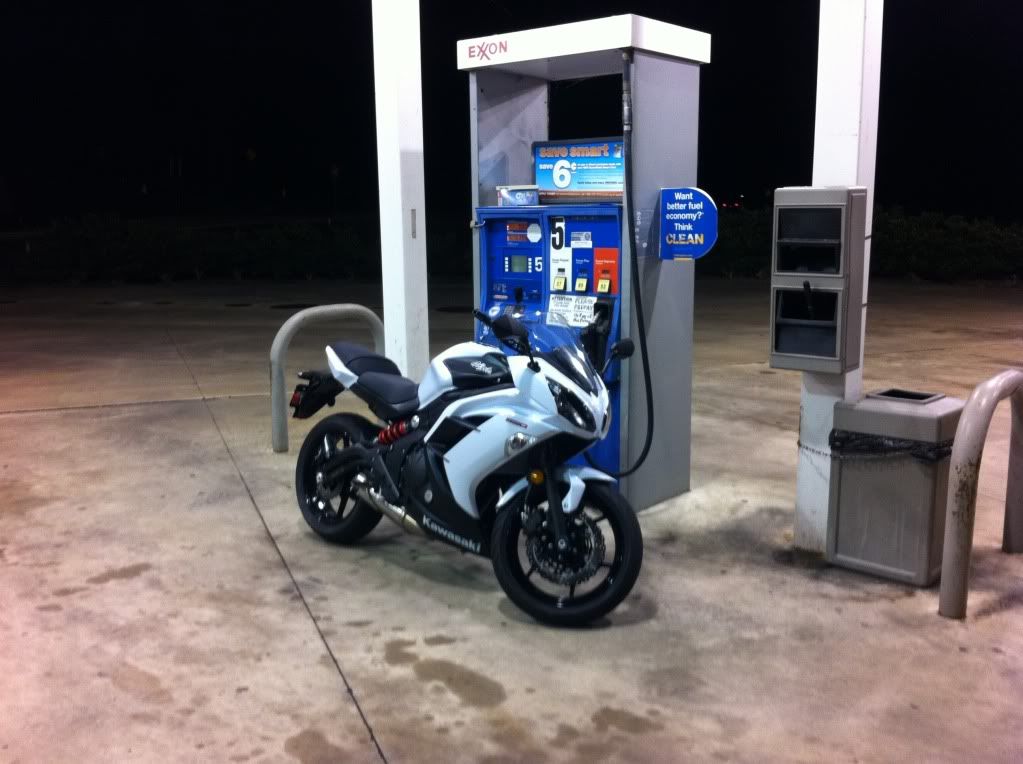 Cool gas station photo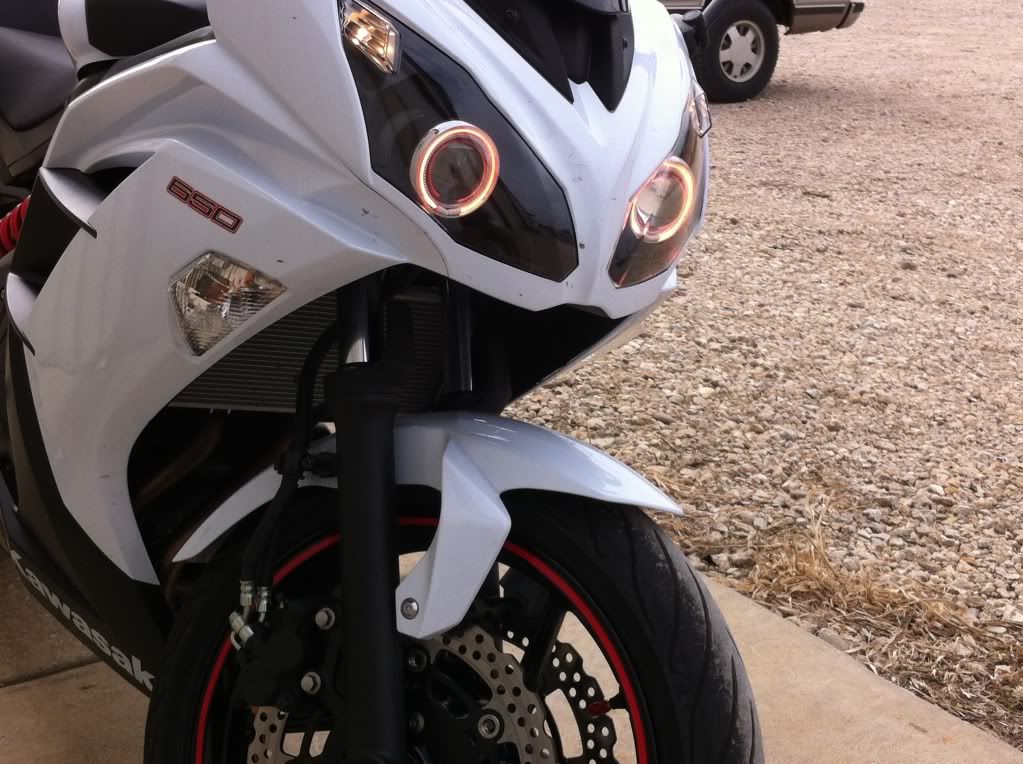 These are the halos I ordered from BKMOTO. I had to pay $20 extra just to get red halos, but they're pink. They're even more pink in person, and even more pink at night. Borka says he'll send me updated red halos when they come out. Hopefully he makes things right.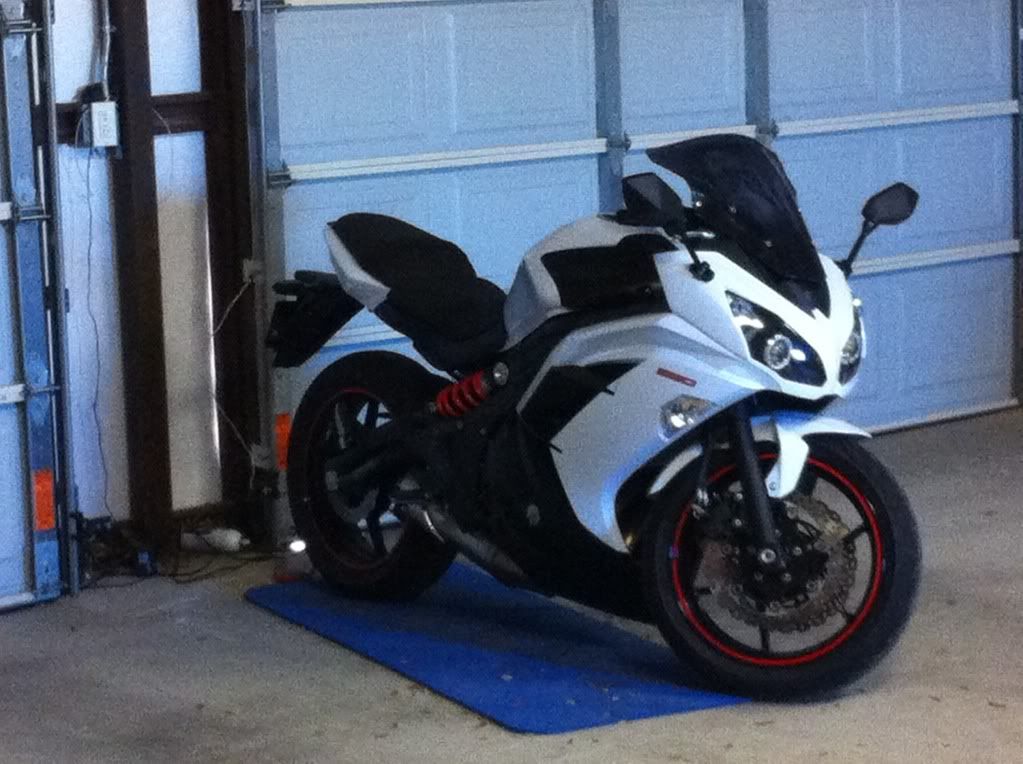 My bike after I lowered the front end and a couple mods.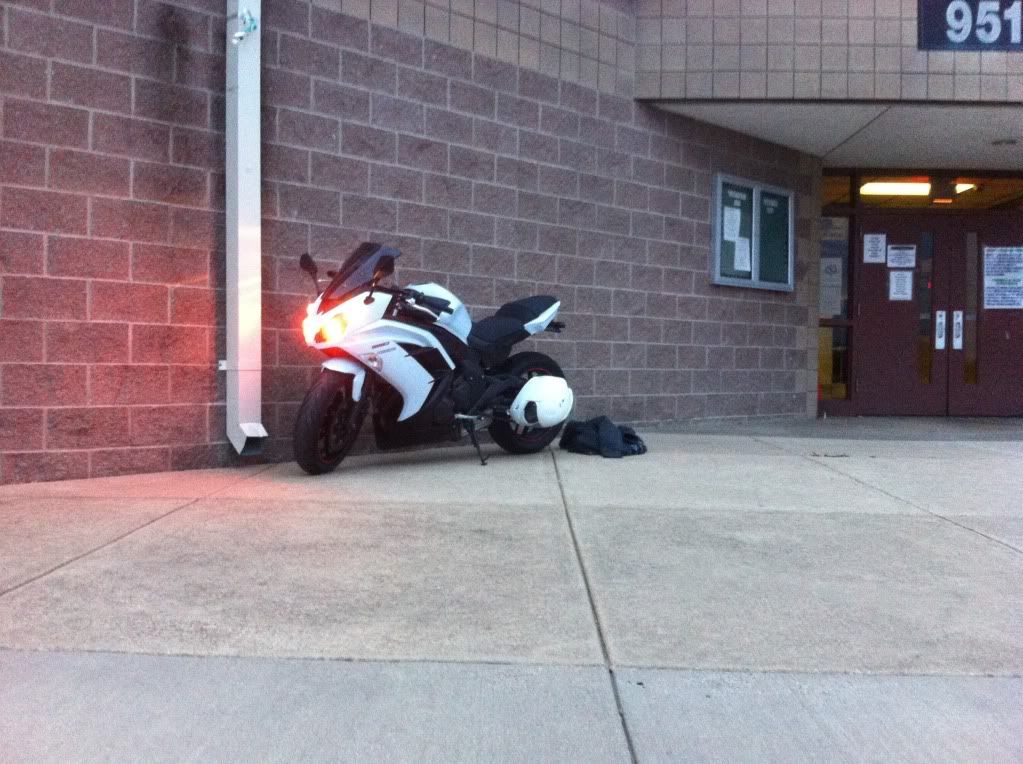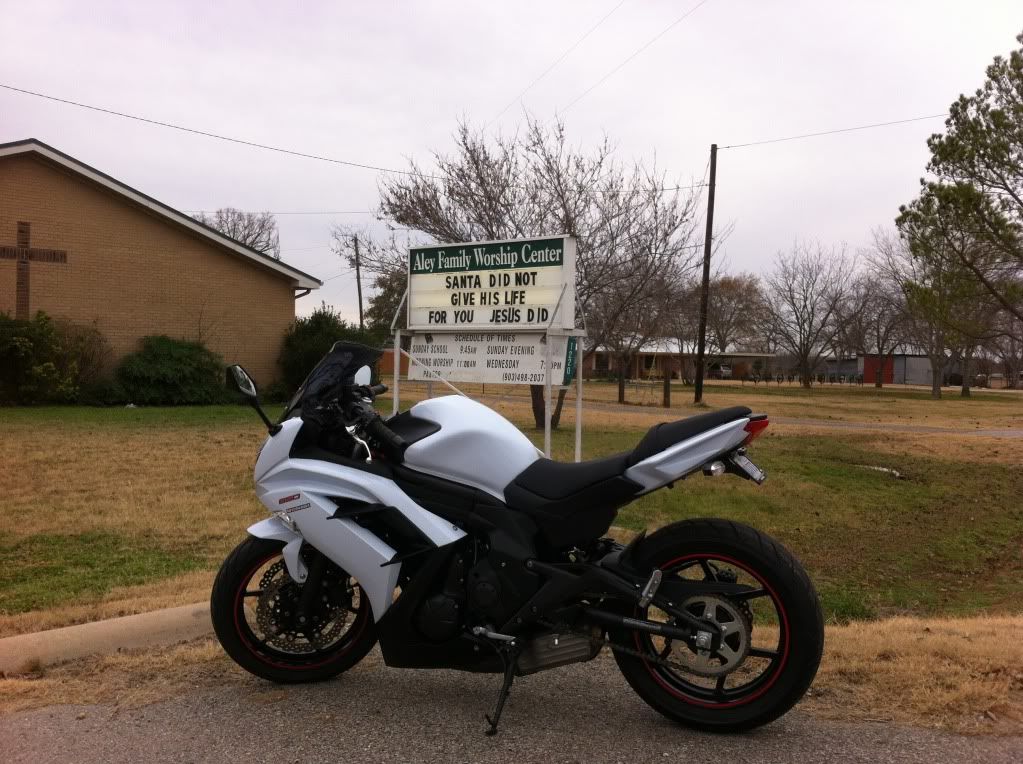 This is a photo from my drive today. Down here in rural Texas there tend to be A LOT of churches with silly sayings.
My mods so far:
Yoshimura Fender Eliminator
Ninja650shop sports bars
red reflective rim tape
Ninja and Kawasaki debadged
BKMOTO Red halos and HID projectors
Smoked windscreen(needs to be redone. It was too cold and I had a few too many beers to do it right.)
Lowered 2 and 13/16" in the front(I'll probably end up raising it to 1 and 1/2" lowered or 1 and 3/4" lowered.
All reflectors removed
Mods I'm waiting to install:
T-Rex racing 2" lowering link for the rearend(I attempted to install it, but it just didn't line up correctly. The hole centers were off.)
Puig double bubble windscreen-light smoke
Luimoto red and black seat covers for front and rear with gold gel
Integrated tail light-smoke
Swingarm spools
Cherry bomb exhaust(the same one gunner did)
Future mods:
frame sliders
led accent lights
led brow for the headlight housing
smoking all lights
---
Last edited by Napkin Legend; 12-23-2012 at

10:46 PM

. Reason: adding text
Member
Join Date: Mar 2007
Location: Bangkok Thailand. Born and raised in Southampton, Hampshire, England.
Posts: 572
Is that Ford in one of those photos.
Bonanza track and BIRA Thailand.
Karl Bangkok
Jr. Member
Join Date: Jun 2011
Posts: 80
From racer above to tourer..
I bought mine from a fellow forum member who upgraded to a Ninja 1000.
His mods:
Yoshimura Exhaust
Flip-up Adjustable Levers
Tanks Pad
LED Lighting Kit -w Remote
Tidy Tail
Brake Light Flashers
12V Charger Socket under the Seat
Battery Tender Pigtails
My mods:
Power Commander V -w Tuning
GSG-Moto Frame Sliders
Fuse Block
Givi PLX Side and Top Racks
Givi V35 Hard Bags
Oxford Heated Grips
Next will probably be a shock, and tires..
Jr. Member
Join Date: Jun 2011
Posts: 80
Thanks. The bike is a great all around platform, and my mechanic loves to work on it. He's an old timer that rides a cruiser, a Speed Triple and a KLR. While more power would be cool, I wouldn't track this bike, so it's not a big deal. I would rather get a lightly dropped 2008 to 2009 250r for track use, and mod it just for that purpose.

I am concentrating more on ride-ability for commuting and longer day and overnight trips. With the top box on, I can carry enough gear for a three day camping trip.. easy. The seat sucks, so it's next. After that, roads are rough around here, so a new shock, and maybe some fork upgrades would be nice, and finding a way to mount some hand guards on the bar ends to keep the winter air off my gauntlets would let me extend out the season more, since the heated grips help a lot already.

But for me, if you have an aftermarket exhaust.. get a Power Commander. It really does make a huge difference in making the bike a pleasure to ride. I will probably add the AutoTune module, just so it can take different seasons into account.
Jr. Member
Join Date: Jan 2013
Location: ME
Posts: 45
Posting Rules

You may not post new threads

You may post replies

You may not post attachments

You may not edit your posts

---

HTML code is Off

---