Part Interchange List
---
This will make a great sticky.................
Anyway This is on another forum I am apart of. There is alot of great info in this list for parts on other bikes that will work with our Z. If there are some others that you all might know of that is not on the list post it up and I will update the list.
SUSPENSION / STEERING
Forks
- 03-05 ZX6R
Mods Required: ??
- You have to press z1000 stem into ZX10 2006-07 lower triple.
** ZX10 2004-2007 forks are okay.
** ZX10 2008 forks are too long.
Shocks
- 03-05 ZX6R
Mods Required: The '05 636 shock will NOT directly bolt in. The lower legs on the 636 shock are 2mm closer together, and there is a spacer inside the shock linkage which will not fit into it. Need to have 1mm milled out of the inside of each shock leg to get it to bolt in.
- '05 ZX10R
Mods Required: I've personally got one, just haven't installed it yet. Mods TBD...
- 01-04(?) GSXR600
Mods Required: Minor clearance probs, slightly too short
Swingarm
- 98-02 zx6, zx9, and zx12
Dog Bones
- ZX9 or ZX6
Mods Required: None required
BRAKES
Rotors
- ZX10R Wave Rotors - fronts DO NOT fit, the mounting holes are offset
- z1000(03-06), ZX12R(05-07), and ZR-7S(03-05) front brake rotors are all the same
-ZX9R (02-04)320mm front rotors
No mods required direct bolt on
Calipers
- 2001-2003 GSXR 600/750/1000 calipers
Mods Required: May require creative brake line routing or longer hoses
WHEELS
- Rear
2000-2003 ZX9
- Front
1998-2002 ZX6
2000-2002 ZX9
ENGINE PARTS
ZX-9
- Cams ('98-'03)
Mods Required: There's a few things required for this. Here's a great thread on it:
How to make 01-03 ZX 9R cams work. - RiderForums.com Community
- Flywheel / Stator / Cover ('98-'03)
Mods Required: Requires lengthening the wires by about 5-6 inches.
**will drop approx. 2 lbs. of rotating mass
ZX10 (04-05) Throttle Bodies
Mods will include putting your sensors on and flipping them upside down (injectors on bottom)
DRIVELINE
JT Sprockets
Front JTF1537.16 (Same as '04 ZX10 16 tooth)
Rear JTR1489.42 (Same as '04 ZX10 42 tooth)
Renthal (courtesy of Parts411)
Front 1212-0036-pu $36 or someone mentioned 400-525-16P
Rear R184U-525-42-HA-pu $56
Sprocket Specialists
Front 572S-16
Rear 706-42
EXHAUST
2001 ZX9R header
Modification required: Collector hits rear shock, needs to be slash cut and flipped 180 degrees.
D&D
Mods Required: Fab new hanger
FUEL INJECTION / INDUCTION
Pod Filters, K&N Part #RC-1064
Mod Required: Airbox removal
BODY
Tail Components
- ZX6R
Mods Required: None
MISC PIECES
Clutch lever & Perch
- Almost any Kawasaki cable clutch & perch will fit
Rear Sets
I saw someone with a set of modified aftermarket ZX10 rearsets on their bike once. If you know who it was have them post up here on how they did it...
GAUGES
2005-2006 ZX636 gauges are a direct bolt-on. Main difference is that the RPM range will be different and the 636 does NOT have a fuel gauge.
---
---
Last edited by Curtie223; 12-18-2010 at

11:59 PM

.
I swear I have seen this somewhere before...
On another note riderforums seems to be dying
---
Last edited by atschach; 01-12-2011 at

06:26 PM

.
Quote:
On another note riderforums seems to be dying
Agreed
---
08 Z1000
PCIII
BMC Air Filter
DNA Stage 2 air box lid
Two Bros Black Series CF Exhaust
Interesting list.
I am currently in the process of swapping a '07 zx6r front end onto my '03 Z1000. Its a little tricky, but I think its gonna come out bitchen! I'll be sure to add here what worked and the mods needed to make it happen. I can tell you now; the Z1000 wheel doesn't fit. Looking to put a zx6r front wheel. The hub is much wider
---
Last edited by HOOLIGAN; 02-22-2011 at

03:13 PM

.
Any update on the '05 zx10r rear shock?
Pulled it off! Put a '05 zx6r front wheel in it. Fit like a glove.
Still have an issue with the brake line length. Currently using the stock master cylinder. This doesn't give the right kind of bite the radial mount calipers should be providing. I have the correct piece, but then there's more issues... The exit on the zx6r mc is on the bottom; the z's is out the front... The stock throttle cables intersect the brake line banjo bolt on the zx6r mc. Gonna have to switch to zx6r throttle assembly and starter switch, and different brake lines (different banjo bolt angles). I'm thinking about giving a '09 z1000 brake line a shot, so Galfer doesn't charge me for a custom job.
Now that I have this zx6r front wheel on; I'm thinking a '07 zx10r rear wheel might fit to get a matching pair of wheels. Then more issues arise again. Like axle diameter, rear caliper bracket, and general clearance.
But I'm so happy with the swap. Such a better ride, in corners, on the highway, etc. It's really even more of a comfortable ride now. I'm surprised more owners don't make this swap.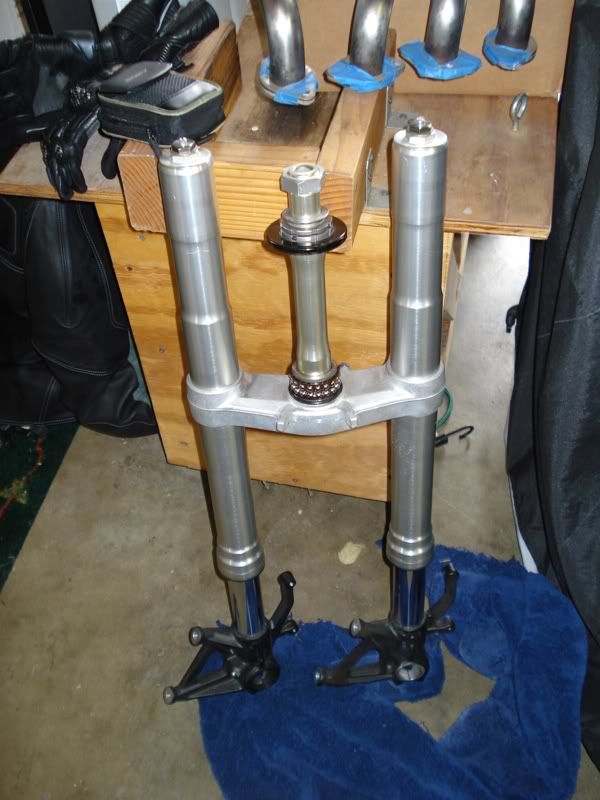 I changed the bars too to get rid of the GOLD bits. Renthal bar from a CRF450f. It's REALLY wide. I think I'm gonna try clip-ons or and the street bars from a Ducati
Now the rear wheel throws it all off... Zx10r rear, coming soon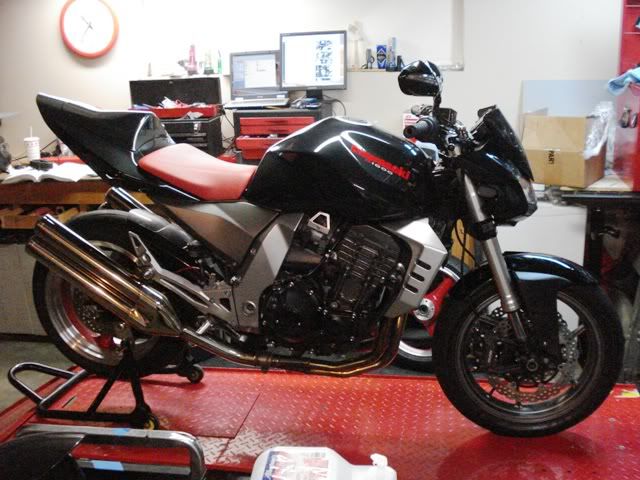 ---
Last edited by HOOLIGAN; 03-15-2011 at

01:56 PM

. Reason: added pictures
Jr. Member
Join Date: Apr 2010
Posts: 17
Wondering if anyone has swapped for zx9 wheels yet. A lot of the companies that make aftermarket wheels don't make them for the Z, but they do make them for the zx9r... so if the wheels are the same, could we use our stock axles and rotors and such? I've got an '03, and I really want some March or BST wheels!

PS, part numbers are the same on one wheel and different ob the other. If I remember right, the front is different in the second half of the number or something.
---
2003 Z1000 Full muzzy Ti system, PCIII, K&N, +3 rear Vortex, speedo healer, dagger levers, pluig taller screen, anodized this and that, it's never going to end is it...

I have a 2003 Z1000 with a 2004 ZX10-R instrument cluster, lower rear shock mount and ECU. I have done other mods but nothing too obvious..... well I did modify the exhaust, I hated the stock exhaust note... or lack thereof..... so i ground the spot welds on the end caps of the stock exhaust and cut 10" out of the mufflers... this is all the muffler portion. I then tack welded the end caps back in place. Now not only does my girlfriend not have to worry about burning her legs on those massive pipes but it now sounds like the spawn of hell is trapped in my engine and angry. Ill post some of the pics I have from before i did the exhaust mod.
Here is a
link to the pics
.... having problems embedding.....
---
2003 Orange/Black Z1000
Yes its fast, the tennis elbow in both my arms from hanging on attests to it.
---
Last edited by Armiger; 08-19-2011 at

09:34 PM

.
Intermediate Member
Join Date: Feb 2006
Location: Oceanside, California, United States.
Posts: 3,112
Anyone seen/done the 9r 4into1 header. Ivans pp says that stock 4-1 pipe is a very good piece of work. After you cut the collector, will the stock midpipe/can bolt to rear z1000's subframe??
you should be bolting an exhaust you your subframe?? I personally have installed the ZX9R headers. They work great. Much better than any aftermarket header
---
Posting Rules

You may not post new threads

You may post replies

You may not post attachments

You may not edit your posts

---

HTML code is Off

---