Quote:
however the height was a little more noticeable for me. I just ordered a Sargent seat to replace the stock seat because the stock seat is not very comfortable. The Sargent seat adds about a 1/2" to the height, so I'll see how it works out when it arrives. If it doesn't work out I can return it.
!
there are adjustable lowering links available from RatedRParts, Perth, Australia. You can check them out on eBay. Cheers
Jr. Member
Join Date: Sep 2012
Posts: 1
Just bought one got a great deal new from team moto. Morooka bris. Traded my z750 and loved that but haven't looked back awesome bike. Love the torque in comparison to the 750 feels lighter and more controlable too.

Sent from my MZ601 using Motorcycle.com Free App
Insurance on the Ninja 1000 is too high for the type of bike it is... but the INS CO's only seem to look at the cc's. 1043 is more than 998, so the Ninja 1000 costs more to insure than a ZX10r despite the fact that the 10r is a race bike and the N1K is a sport-tourer with about the same top end as the ZX6r. On top of that, the Z1000 costs about half as much to insure for essentially the EXACT SAME BIKE!!! Insurance aside, I love the Ninja 1000.
I traded my 2007 Z1000 for it back in May and haven't looked back. Yeah, she's heavy, but you forget that once you start rolling. There are two things this bike needs:
1) Exhaust - slip-ons at the least. I got the dual M4's for less than $500. They look good and sound good without being obnoxiously loud. But the reason you need to ditch the stock exhaust is that its so restrictive it causes unreal engine braking. If you let off the throttle, the bike wants to stop rolling instantly. With the slip-ons, you still have engine braking, but its not so severe and disruptive to your rhythm.
2) 190/55 rear tire. The manual says this is the stock size, but they ship them all with 190/50's. The 55 series makes a world of difference in the bikes geometry. Turn-in is noticeably quicker and confidence inspiring. They saved a few bucks by mounting 190/50's from the factory, but did a great disservice to the bikes handling. Break the bike in, and replace that rear ASAP.
There is no comparison to the 650. The Ninja 1000 has a better engine, better brakes, better suspension, and plenty of torque so you don't have to rev it to the moon to make her go. Nothing against the 650... it does what it was designed to do. But the Ninja 1000 is perfect for someone who wants something between a supersport and touring bike. I can rail all day in the twisties and not be sore in the wrists, neck, and back like my friends on their race replicas. The seat will suit some, but not others. I think the stock seat is plenty plush and it doesn't hurt my backside in the least. So its a keeper for me.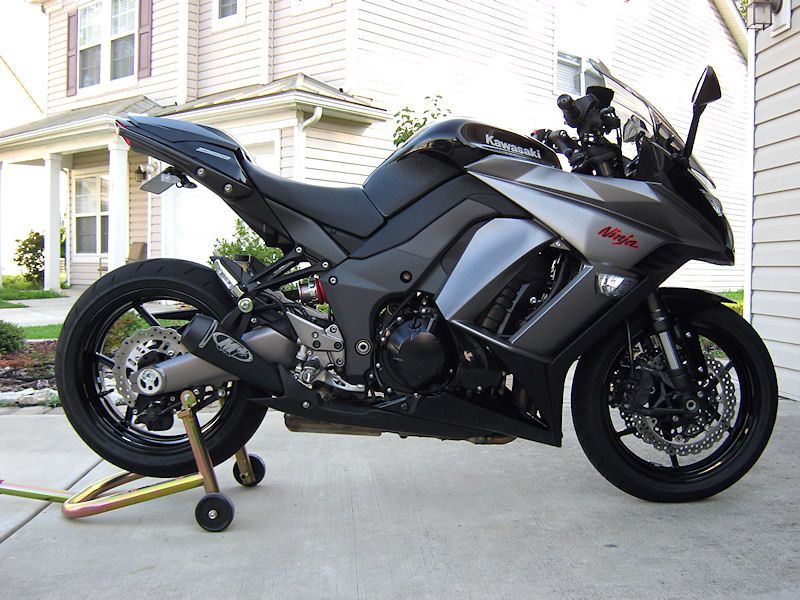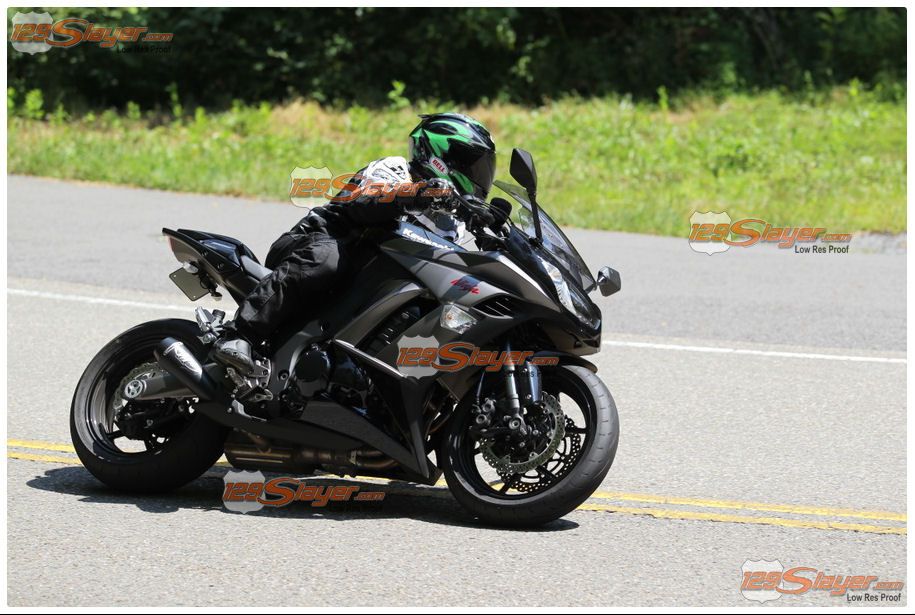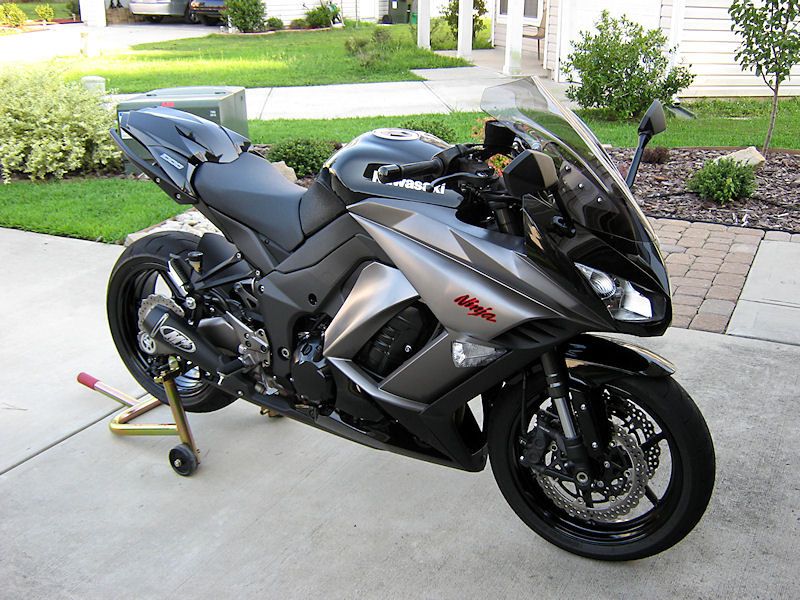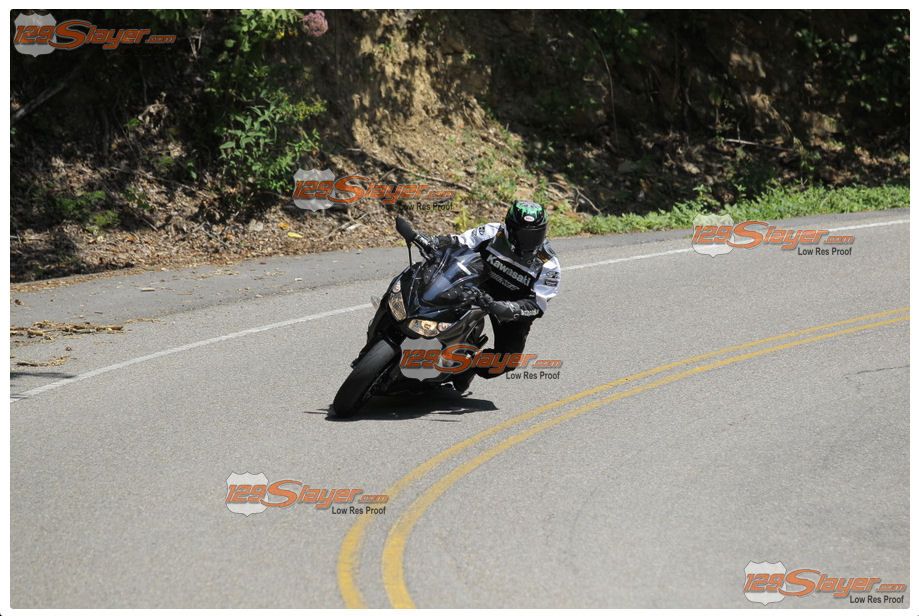 ---
2012 Kawasaki Ninja 1000 in Black/Micron * OEM Solo Seat Cowl * Puig Smoke Windscreen * Targa FE with Rizoma rear signals * Sato GP Type Swingarm Hooks * M4 GP Style Slip-on Exhaust
Jr. Member
Join Date: Oct 2012
Posts: 8
i have own now for 4 months. have 6k mile on it now. this is a great bike! all around best bike ever made. its a good sport bike and a good tourer. it will do whatever is asked of it. the NK1may not be a top end hell raiser but it is mid rev king. amazing in corners always smooth. which some of my friends found out this weekend on a 400 mile ride. their was a momment along the ride when the throttles open up. other bikes was a CBR 1000, Hayabusa, ZZ 1200, and ZX12... to my surpise the ninja 1000 held its own with these bikes, passing the CBr and zx12 (did so by its mid range power) and i noticed i was quicker in corners. at the end of the ride only myself and the zz 1200 rider had no body soreness. this is an all around outstanding bike. i complained at first about how "slow" it was, i was wrong.
Got the 2012 N1K, silver/black, just like above pix.
Picked it up two days ago. I come from a 2011
650r. The N1K is way smoother, more powerful,
more comfortable seat, just as agile. I highly
recommend it...
---
Mike F
2012 Ninja 1000
Black/Gray
Jr. Member
Join Date: Jan 2012
Location: NW Florida
Posts: 2
Ive had my 2012 N1k ABS for about 8 months now, I have a few small complaints, but over all, I absolutely love it.
issues I have should be easy enough to sort, we will see, ive got too many other projects going ATM
1) Stock seat pushes your nuts into the tank(WAY worse when riding 2up)
2) This could be a "Safety feature", but there is near ZERO throttle response off idle. Its like a ~500 rpm deadzone, I can crack it to 100%, but its got a huge lag until it starts to move.
3) Stock clutch, though cable, is somehow devoid of feel, and doesnt bite as hard as I prefer
and last but not least.....these damn boat anchor mufflers
Jr. Member
Join Date: Dec 2013
Posts: 3
I purchased my 2012 Ninja 1000 in January 2013.
Since then I have logged over 8000 miles.
This is the best bike I have ever owned.
There is absolutely nothing on this bike that I would improve upon.
Crazy power along with amazing handling and fantastic breaking.
I would not trade this bike for any other bike. Period.
Jr. Member
Join Date: Dec 2013
Posts: 3
I switched to the Sargent seat.
Amazing, you literally forget your sitting
Jr. Member
Join Date: May 2009
Location: West-central IL
Posts: 102
I had an 07 650R. Loved it, especially the upright stock bars. Went to a 06 Z750S. Racked it, bagged it and lowered it. It is just a better machine all around, seems to have a bit more quality to it than the 650. From what people post here, the 1000 is another improvement over the 750. I don't have a need for any more power than the 750 has to offer, but I'm 52 years old and calming down some. Split the difference - get a Z750S. They can be had for about $3000 in the U.S.
---
Redbike. My mind says sport bike, my body says cruiser.…..my mind won: 2006 Z750S.
Lowered. Genmar risers. Buell mirrors.
ZG DB screen. K+N filter. LED tail lights and turn signals. Hugger.
Jr. Member
Join Date: Oct 2013
Location: Howell, MI
Posts: 119
Moving from all super sport bikes (Still have a newer Gixxer 1K), The Ninja 1000 for me is the first "tour" version I have ridden that impressed me with looks and feel. It is also my first Kawasaki after some 12 other bikes. I purchased a '13 just before the snow hit, and with the limited miles I was able to ride, I love the bike.

The bike could stand some modifications, like mufflers, and an improved seat. I installed Delkevic mufflers due to cost, and a Sargent seat which works nice. Have had fun this winter adding GPS mounts, charge monitor, CNC levers, and various accents.

At 1600 miles, it does not get great gas mileage yet (Compared to a gixxer 1K), so I may re-gear or see what I end up with after some more miles.

Tires, don't like the stock ones, just me. They will be swapped soon. The bike should be a good priced purchase if looking for leftover 12 and 13 model years due to some changes in the 14......mine was.
Posting Rules

You may not post new threads

You may post replies

You may not post attachments

You may not edit your posts

---

HTML code is Off

---