Jr. Member
Join Date: Aug 2012
Posts: 8
Removing Muffler Body in 07-08 ZX6r
---
Howdy Gents,

Curious if any of you have experience replacing the muffler body in the 07 or 08 ZX6r... Is it difficult? Do you need to install a new part every time you take it off?

I need to remove the ECU to install a license plate bracket underneath, but I remember a look at the service manual said that you need to remove the muffler body. When it explains how to remove the muffler body, it says you need a new gasket every time you replace it.

Is that true?
Jr. Member
Join Date: Nov 2012
Posts: 11
The gaskets can crumble while removing/installing the muffler. There are 2 on that bike. One before the midpipe and one before the muffler. The upper one is usually in better shape because it sees less heat. If you're careful you should be able to reuse them but they only cost like $5 if you'd rather be safe. Just don't use the old ones if there is any sign of damage or if you wrestle with it at all while installing.
The one before the muffler is usually in pretty good shape so no need to worry about that one...especially if it hasn't been removed before. I would still be careful when removing/replacing just because those gaskets are usually special order parts and your bike will be down for however long it takes your local dealer to get the part in.

It's extremely easy removing the muffler though. It's a matter of removing the seat, then the tail, and the bolts that mount the muffler itself. Just take your time.
---
'07 Ninja ZX-6R
-SOLD
'12 Triumph Daytona 675R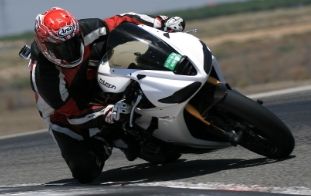 ]
Posting Rules

You may not post new threads

You may post replies

You may not post attachments

You may not edit your posts

---

HTML code is Off

---