Diy Chain Rivet Tool
---
DIY CHAIN RIVET TOOL
All you need is cheap pipe flaring tool, and a C-clamp...
Now, turn the screw in each tool counter clockwise until the adapters pop off.......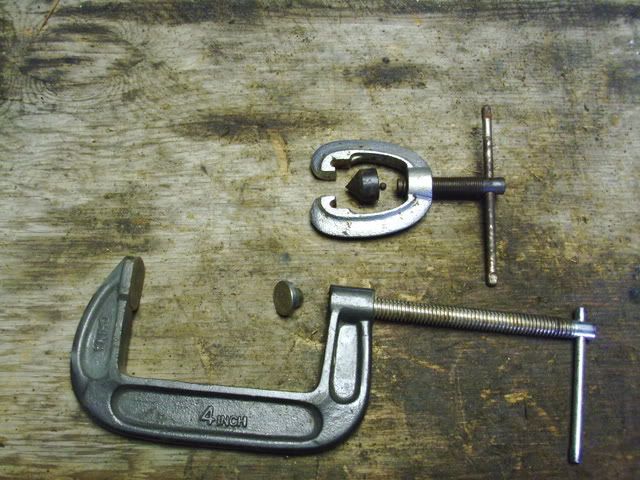 Now, take the adapter from the flaring tool and install it onto the C-clamp. If it doesnt fit right (or at all) dont worry, it doesnt have to stick to the screw.....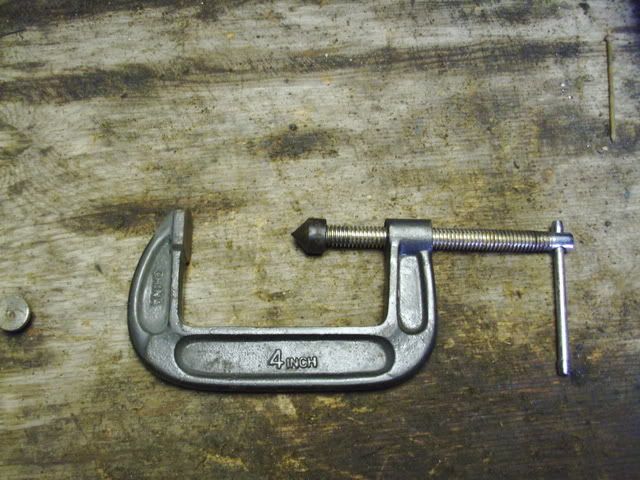 Now you can rivet your chain links..........
I hope this helps someone as broke as I am.
Yes, my bike is nasty.
---
dude frekin sweet. i didnt want to spend the $100 bones on that tool either, but i already got those. you rock.
---
Negative Ghost Rider, the pattern is full.

2006 636
2007 1098
good idea. rep
---
-Why do women love civil engineers? Because civil engineers build the world's largest erections.
--I'm gonna make like a fetus and head out.
---You're hungry? How about I give you a knuckle sandwich?!
I'm surprised this hasn't gotten more feedback. Sweet setup man
Great idea, I think most of us already have both those tools. I didn't want to spend the $100 on a riveting tool back when I powdercoated all the parts on my CBR600RR so I used a die grinder to remove the rivets then replaced the chain link with an RK clip style chain link. They are still pretty reliable and are also reusable but now that you've shown us how to use the C clamp I think it's worth always installing a rivet style chain link.
---
08' ZX-10R Lime Green
T-REX Spools & Sliders, Harris Tank Pad, CFL Gas Cap Pad, ProGrip 724 Grips, Kawasaki Seat Cowl, HM Fender Eliminator, "Pure Green" LED, gauges, StarRotors HID's, ASV C5 shorty levers, Buell XB Footpegs
interesting idea. i'll have to go look in my toolbox when i get home and see if i have that pipe tool or not.
---
build a man a fire and he's warm for a day.
light
a man on fire and he's warm for the rest of his life.
https://www.kawiforums.com/showthread.php?t=119829
search tools, just use them.
now if you could just tell me how to get my front sprocket off i would be good to go.
---
meangreen7r is formerly known as sweetzixxer
Quote:
Without a doubt.
Hell for a billion? I'd let you have your way with my asshole afterwards too.
1/2 drive air wrench, and make sure you have plenty of air pressure built up in your compressor.
---
Posting Rules

You may not post new threads

You may not post replies

You may not post attachments

You may not edit your posts

---

HTML code is Off

---