Discussion Starter
•
#1
•
Ok since I decided I'm not going to sell the bike thought I would put the stock parts up for sale. All parts have anywhere between 3800-4000 miles on them and are in great working order.
1. Stock muffler, midpipe, cables and all hardware needed to bolt on. Muffler has a slight little scratch I believe is from the black metal cover that goes over it. Other than that looks and works great. $120
2. Rear fender. Still have reflectors and all lights still work fine just need the 4 bolts and nuts to mount it. $40
3. Stock tail light. Clear lens with no scratches. Very clean. $30
4. Stock ohlins steering damper. Put thicker oil in it so it works a little better than the stock settings. Also put hex head bolts instead of Allen key bolts to make it easier to take on and off. Works perfectly fine, just have a Scott's damper now. $150
Have any questions or interest feel free to pm me and ill be glad to answer them for ya. Thanks for lookin!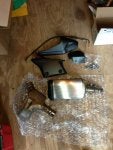 Sent from Motorcycle.com Free App