Discussion Starter
·
#1
·
I had to trade in that slow 07 6r for a new 08 10r. That 600 wouldn't even do 70 mph power wheelies, WEAK!
Just kidding... about the 6r being slow that is. I loved that bike, and I already miss it a bit, but it's that time of year where I get the itch for something new so she had to go. In her place is this beauty: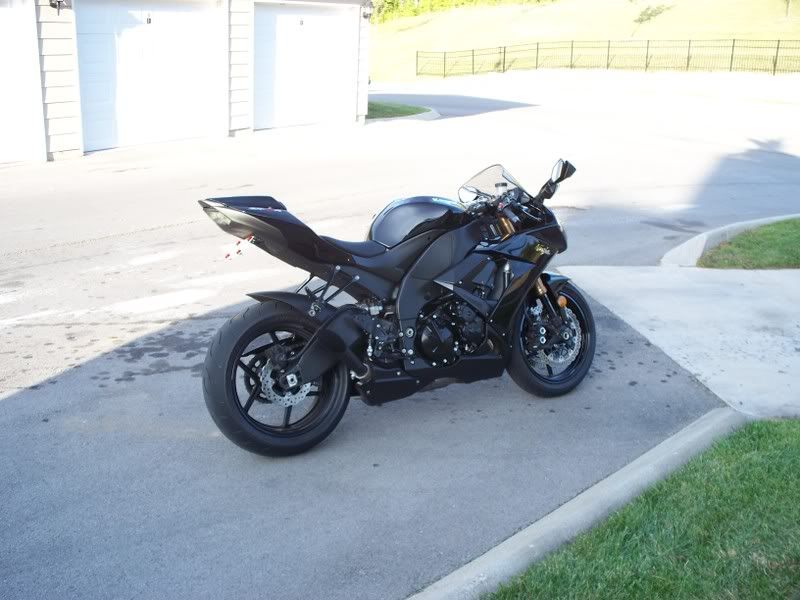 The dealership had two left over 08's, a green one and a black one. I only saw the green one at first and was giving it some serious thought when the salesman said "hey, have you seen the black one we got back here that we put some part on?"
That's when I saw my future bike. It already had a fender eliminator, integrated smoke tail light, swingarm spools, seat cowl, and a hotbodies slash tip slip on exhaust. It also had some hideous windscreen that was solid black with skulls on it or some shit. Major squid material if you ask me. I told them it had to go and made them give me the original windscreen. Also told them I wanted the stock exhaust and passenger seat of course.
Got everything basically for free as the green bike without all the extras would have been the same price. I really liked the green and was torn between the two colors, but the free extras tipped the scales in the black bikes favor.
First impression, this thing is a beast! I also own an 06 zx10, so the power wasn't really suprising to me, but it was still impressive. And the loud ass exhaust just accentuates the sensation of speed. It's been awhile since I rode a liter on the street since my other 10 is a track bike, so the first ride was a little intimidating. It takes a bit to get used to just how easily these things get up to speed.
The handling seems good, although it is in desperate need of some custom suspension tuning which I'm having done next saturday. The riding position is different than my other bikes so it's going to take some getting used to. The pegs are more forward than my other bikes. Some rearsets are on my short list of next mods. First thing is some frame sliders which are already on the way. After having several accidents where frame sliders saved my bike from being totalled, I'm a believer on how important they are.
The other thing I'm going to change soon are the tires. It comes with the BT016's, which are suppose to be good, but I just don't like the way they feel. It could have to do with the suspension not being adjusted, but they just didn't give much feedback on my ride yesterday afternoon.
As far as the exhaust, it's probably not what I would have bought, but I like it a whole lot better than the stock one. The looks are growing on me. I like that it's small and light and simple. The sound is pretty loud though. It sounds good, and isn't so loud that it bothers me while riding, but I'm worried about the attention that it draws. At 13k rpms, that mother screams!
I know some people don't dig the styling of the new 10, but I happen to like it, so save your breath haters, cuz I don't care. Especially you Skywalker, although I rather enjoy that you hate the 08. And the fact that you thought the 07 6r was one of the prettiest bikes Kawi has made makes it even better
.
I have only had the bike 2 days so I can't give a full review yet, but I plan on hitting up some twisties this weekend. Also, I'm taking it to the track next weekend for it's real test. The front straight at Nashville Super Speedway should be a nice place to see what this thing is capable of. I'll make sure and let you guys know how it goes, assuming I don't wad it up and kill myself beforehand.