Discussion Starter
·
#1
·
With there not being a lot of options right now for seat cowls for the ninja 250 I done a little reasearch and decided to try my hand at creating my own.
There is no set in stone way to do this and is just one example of many ways you can make your own rear seat cowl.
I am not held responsible if you decide to try this yourself and screw up.
if you guys have any suggestions about this feel free to share them
Here is a General Supply List of things that are are needed and can generally be found at places like lowes, Home Depot, or automotive shops
1.Fiberglass Resin
2.Fiberglass Coth
3.Measuring cups
4.Scotch Tape
5.Sand Paper
6.Paint Sticks
7.Paint Brush
8.Scissors
9.Paint
10.Plastic Wrap (thicker the better)
11.Turtle Wax Polish
12. Polishing Pad
13.Rubbing Alcohol
First take off your rear seat and lay it up on your work table.
Flip it up side down and run a seam of tape all the way around where the fabric of the seat seperates from the bottom. (use staples for your tape line.
To Keep anyone from getting confused all we are doing here is taping down any exposed areas of the seet on the bottom to avoid any chance of that fiberglass resin getting down in the seat...
With That taken care of next we want to find a way to seal the surface of the seat. I just used layers of tape but later on I was thinking plastic wrap would have worked better and I probably could have taken out all the wrinkles left over with a blow dryer... but here is the seat covered in tape
After you wrap the seat Take you some alcohol. (I like the 91 percent) and apply it to a rag and clean the seat very well... After you clean the seat apply about 3 or 4 coats of turtle wax... (you will be happy you did later.
Ok now Comes The Fun part.... err sorta
I suggest taking your seat and securing it from the bottom on a stand of some sorts to make it steady while you are working....
I took a wooden block and nailed it into an old work table i was using, and then secured it to the block with tape just well enough to hold it in place.
not the best way to mount something but it did the job.
Cut a section of the cloth about 16"x16", and lay it over the seat(which should be nice and clean at this point). Use your hands to roll it onto the upper surface, sides, and front of the seat. You'll notice the corners will try to bunch up. The good thing about using cloth as opposed to matting is you can get a little stretch out of it. What you need to do is put one hand on the top of the seat, then gently tug the edges of the cloth down and around the edges of the seat. Pull it up+under the edges a bit too. What you're doing here is giving the cloth a bit of form, which it will kind of hold when you take it off. You'll duplicate those pulling motions with the brush when applying the resin.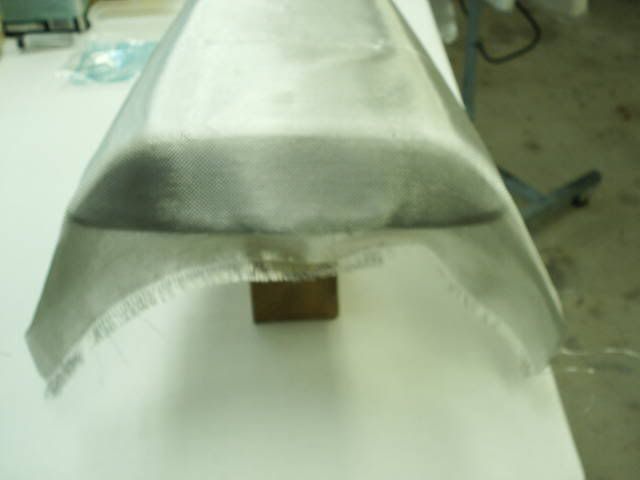 Ok now comes more fun part pour out about 3 oz of resin and add your hardner. If you have never done this before it is pretty simple just follow the instructions on the back of the fiberglass resin label. (make sure you got hardner also)
Mix in your hardner and
be sure to wear gloves
for the next step and
be in a well ventilated area
. cause its about to get messy and smelly. Use your paint stir's to mix up the resin/hardner very well.Use one of your 1" brushes to thoroughly wet the cloth. It will move around on you, so be patient! As the resin starts to harden, you will need to babysit it to keep tapping and tucking the cloth against the seat. Also stroke the brush lengthwise over the whole seat to smooth out any lumps/drops/imperfections. The leftover resin in the cup will cure before the resin on the seat; use it to guage how much longer you need to keep watch.
Once the Resin Has Set Let it Dry over Night and we will come back tomorrow