First and Foremost i do not accept any responsibility for anything that might go wrong with your bike in following my instructions
What you get:
6x LED Accent Tubes (These are nice and bendy
)
A whole bunch of Screws (Which i didn't use)
1x Remote Control
1x Control Box (Box where all the LEDs plug into
)
And some crappy instructions off the box which were of no use whatsoever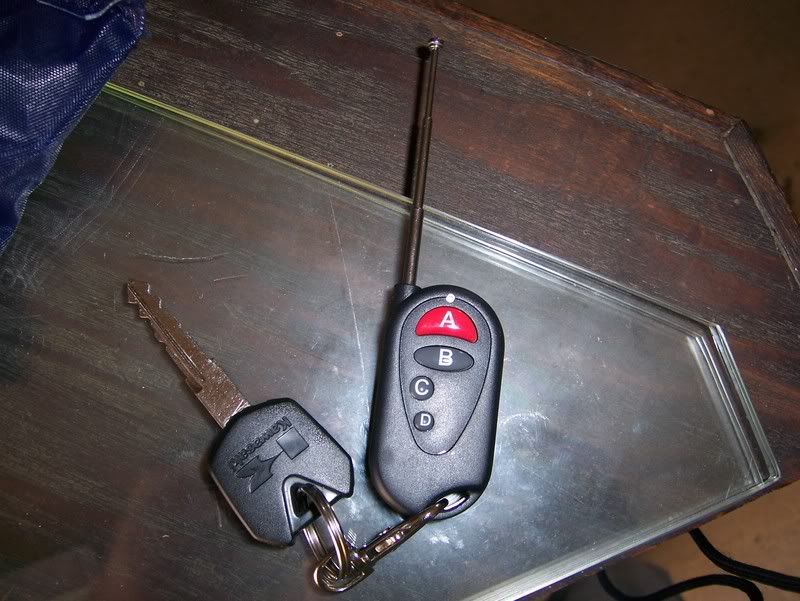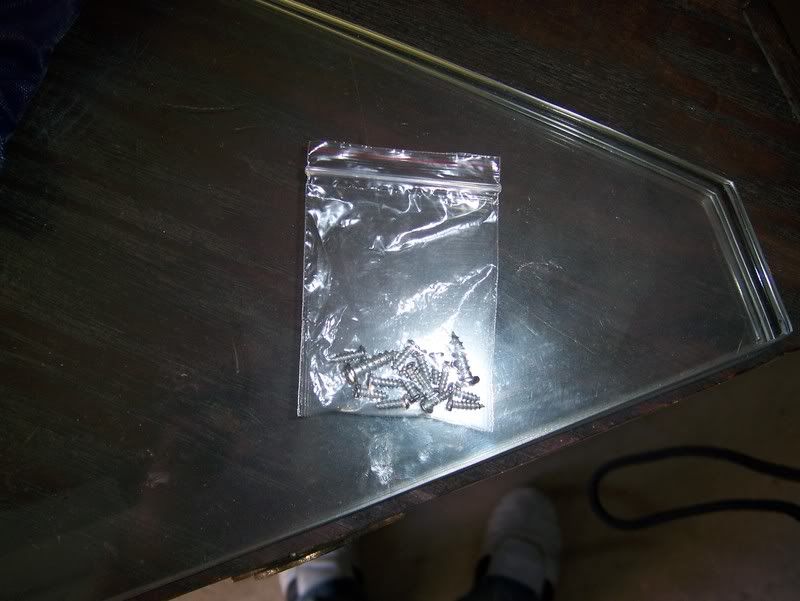 What you'll Need:
Your Kawasaki Tool Kit! (Comes in handy for getting the seat etc off the bike)
A Phillips Head Screwdriver
Wire Strippers
A Shit Load of Patience
Small Hands!
Additional Pieces i bought
(Totally optional Depends how you want to fix the lights to your bike)
1x Electrical Tape
1x Sticky Back Adhesive Tape
1x Heavy Duty Industrial Velcro Pack (Thats right velcro!)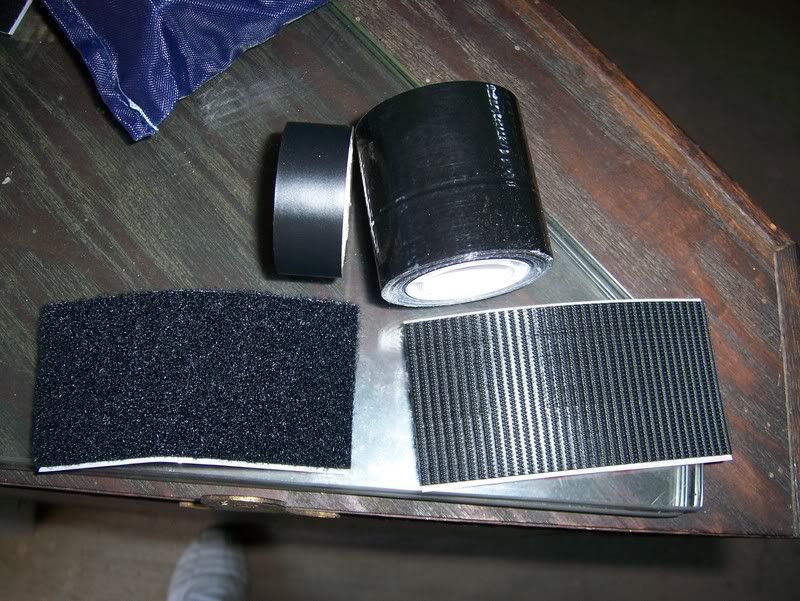 DIY- The Doing it part
Step1:
First things first the best i went about removing the seat which is a simple job as im sure u all know! (Tells you how in your owners manual so won't bore you with details)
Step 2:
With the seat removed you can now gain access to the battery which lies undearneath tonnes of plastic but its fairly simple to remove just a few handy flicks of the wrist with ur screwdriver and you are down to the battery!
Step 3:
With battery exposed i removed the rear seat cowl and placed the little control box snugly where your tool kit normally sits (There is still enough room for the tool kit afterwards but i don't keep mine in ther anyway). Its also a handy spot to place the control box as it means you are right next to the battery! there is also some very handy little holes in this small compartment which are ideal for poking wires through. (Will also block up those holes where people have said "The ninja eats small items!"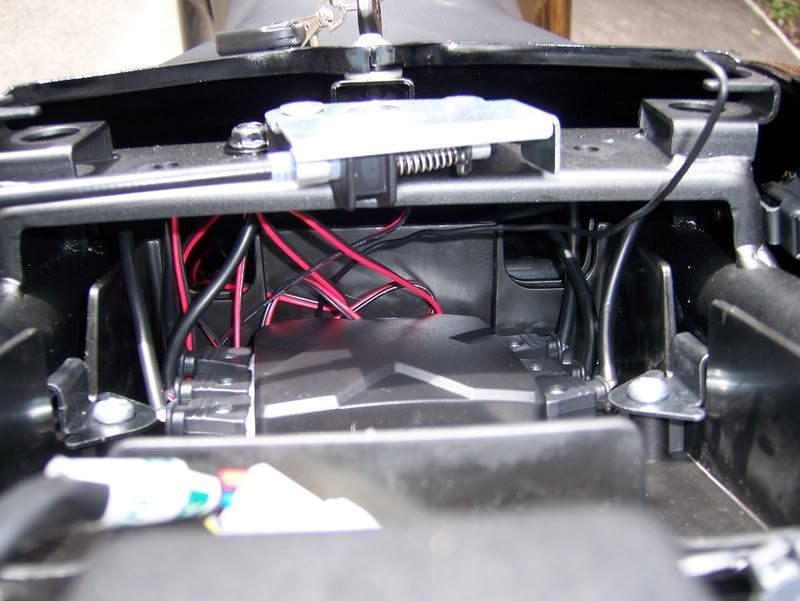 The black wire i have pinging out is the antenna for the lil remote. On either side of the box is the plugs for the 6 LEDs and the Red/Black wire is what hooks to your battery (Red to Red and Black to Black when screwing it to the battery) I also found i had to strip the wires a fair bit to get them to nicely wrap around the bolting of the battery.
Step 4:
With the easy part out of the way you may want to check that you've wired it all up correctly by just pluggin one of the LEDs in and Also have play! Relax you're gonna need it because the stressy part is coming right up! The LEDs themselves are pretty damn neat if i say so myself they do all sorts of different displays etc and are much brighter than i imagined.
Step 5:
Now is the time to map out where you are going to place your six LEDs.
Here is where i put mine (Marked By Red Lines on the Picture)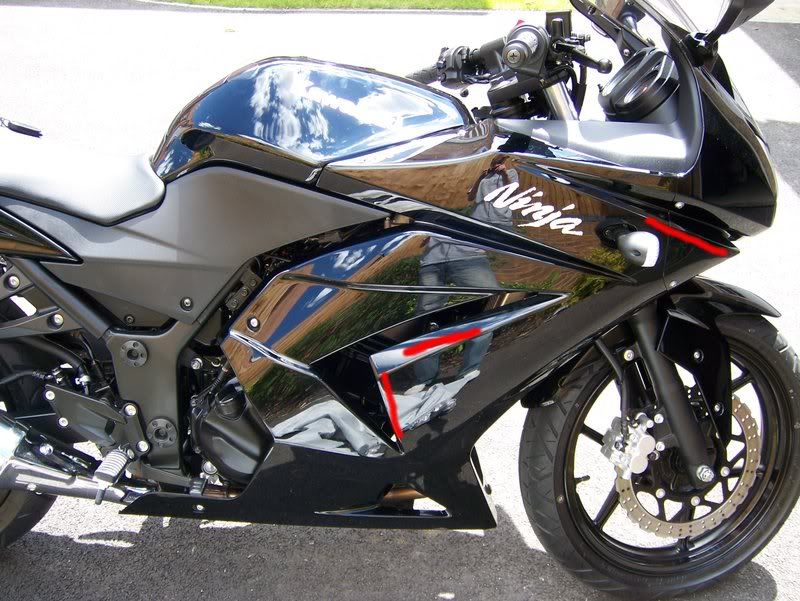 Sorry this one is so dark couldn't get a good shot but u can see the tube on the right of the pic, Its just located under the handlebars (Gives off a nice glow in the middle of the bike and also a nice blanket of light hovers above the tire)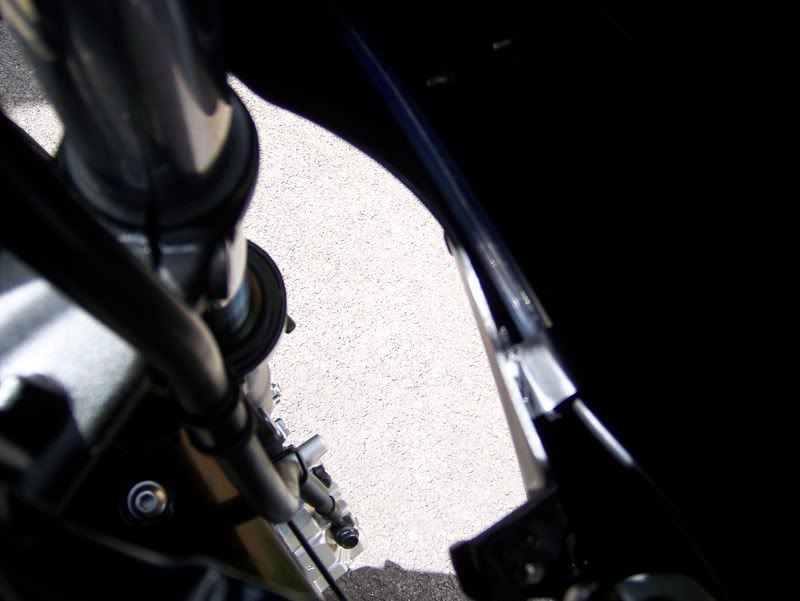 Now i decided i didn't want to go putting nasty screws into my poor baby for several reason (1. In case i decide to take em out, 2. Who wants to drill into their fairing i mean seriously!, 3. Saves time, also for the future if i ever want to take the fairing off i have no need to worry about the reattachment of the LEDs)
So what did i use? Thats right you guessed it!
Velcro
Baby!
I simply cut 2 small squares per LED from each side sheet of the velcro and placed the rough stuff inside the fairing and placed the soft stuff on either end of the LED tube. Then for extra security i placed a strip of adhesive tape over the top (This doesn't block any of the tube whatsoever as they each have a silver end on them which is around 1cm wide)
Now becuase i have fairly small hands i decided i wasn't going to bother taking the fairing off in order to attach the LEDs. It was pretty easy for me with the locations i had picked, however those of you with large hands may struggle!
Step 6:
Now its time to tidy Up! Make sure u don't have any wires hanging around anywhere you don't want to pull away all the slack but you just need to leave a little bit of give on the wires. The way you go about threading your wires back the control box is entirely up to you just make sure the wires aren't sitting on things which are gunna melt the poor things!
With all the wires now plugged into the controller box i then took my electrical tape and went carazy baby
just made sure everything was nicely wrapped up and safe and most importantly tidy
( I'll try to get a pic of this when i next have the seat off for installing my custom seat cover
)
Step 7:
With all that done just tuck away ur tidied up wires into convient places and put all ur bits and bobs back together again!
For the finished result you'll have to wait until later on today which for you guys in U.S will likely be around lunch time- mid-afternoon. Because whilst u can actually see them in the day (Surprisingly) its much better at night so i'll get a pic once its dark and post it up. I'll even post a vid on youtube of all the different functions etc
Have Fun! And if anyone has any Questions feel free to ask! or if there is anything i missed
just tell me!