How to: KLEEN Air Mod for 05-06 ZX6R on NON-CA Bike.
There has been many different How-Tos on this subject. And many threads about people getting confused on what to do. Here is mine. I just did today. I hope this helps everyone
. The photos are being hosted by photobucket and I will keep them active forever.
First things first. This will all-in-all cost you less than $20.
PARTS YOU WILL NEED:
1. T-Connector (plastic or copper, whatever you like)
2. Pack of Vacuum Caps
(2) 5/32" for Throttle Bodies
(1) 3/8" for Air Box
(1) 1/4" for Air Box
3. 2 feet of 3/8" Fuel Line Hose
4. Zip Ties or Hose Clamps (whichever you prefer)
TOOLS YOU WILL NEED:
1. Typical Allen Keys
2. Rachet
3. 10MM Socket
4. 10MM Open-end
5. Knife
Here we go.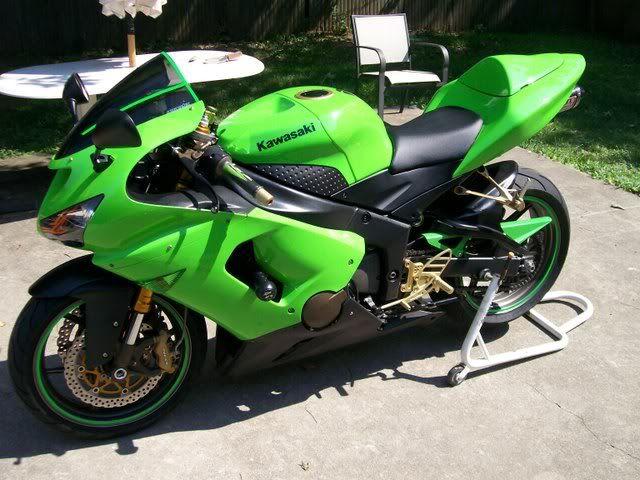 Step 1:
- Remove side panels, seat, and gas tank (I will not show you how, you should know how to perform this if you want to do this mod)
Step 2:
- Remove 5/8" Hose from Air box to top of Crankcase.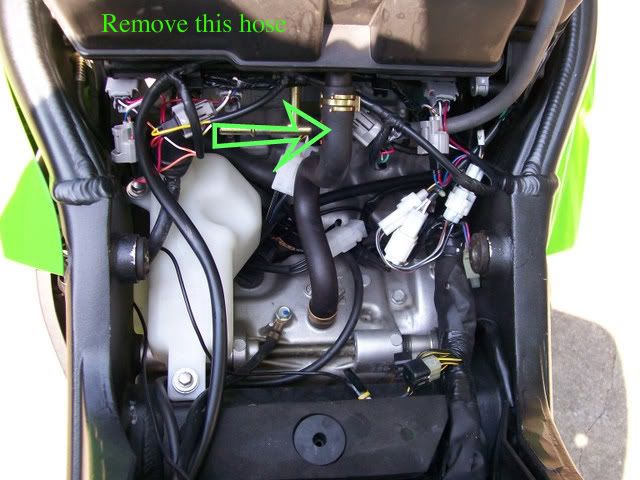 Step 3:
- Remove Air Box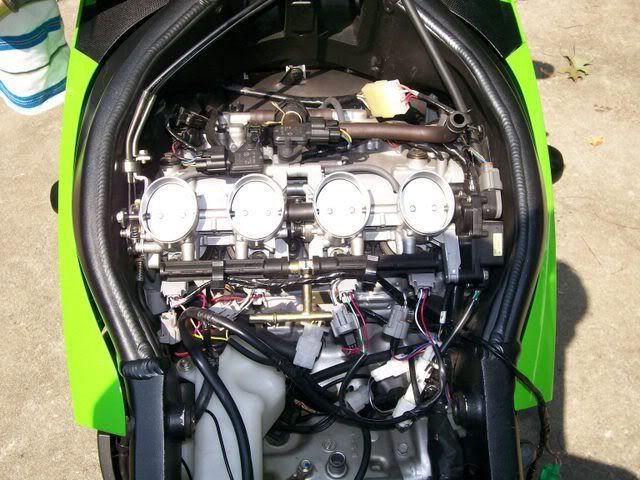 Step 4:
- Remove KLEEN Valve and ALL associated vacuum lines
- Cap 2 ports on Throttle bodies that do now not has vacuum lines off them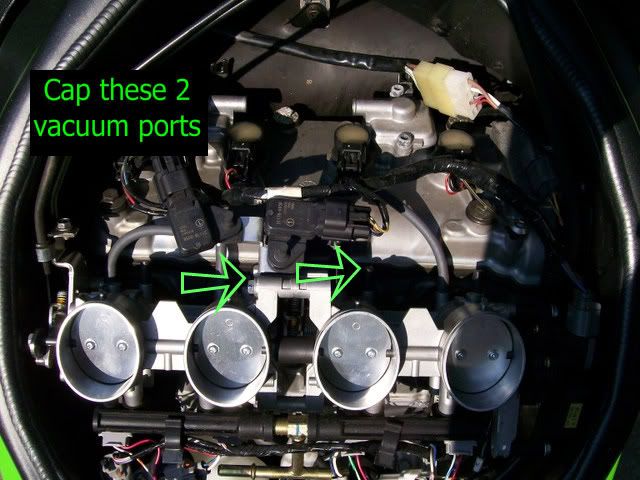 Step 5:
- Place T-Connecter between the 2 ports coming off each valve and connect it with either new hose or pieces of the existing one and cut it to fit. (thats what I did)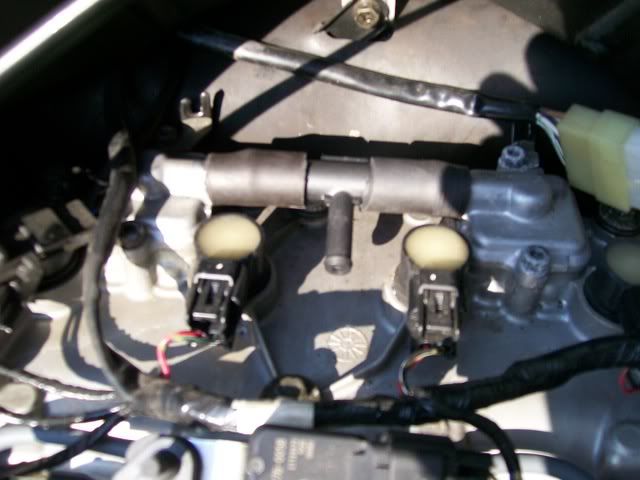 Step 6:
- Now Connect the 3/8" hose you bought from the T-Connector to the top of the crankcase, NOTE: The hose you bought is 3/8" and the nipple off the crankcase is bigger, so just cut the old one and use it as an adapter. (AS SHOWN BELOW)
- Route the hose neatly away from the throttle bodies and around the side down the frame rail, not to interfere with anything.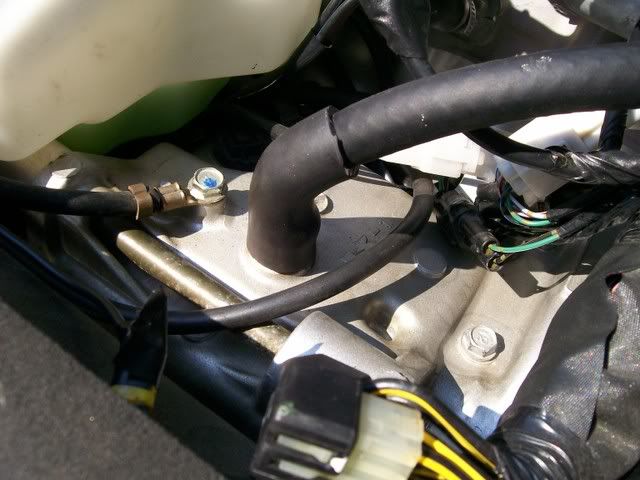 IT SHOULD LOOK LIKE THIS....
Step 7:
- Underneath the air box is 2 holes...Plug both of them.
- Also the front hole that previously connected to the crankcase..plug that too with a bolt (AS SHOWN BELOW).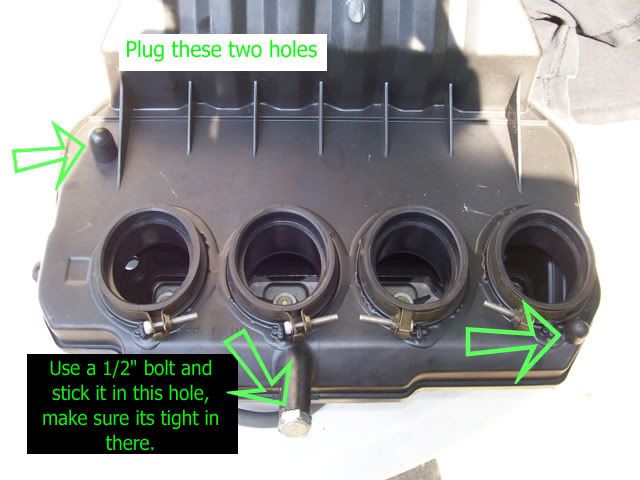 Step 8:
- Zip tie or hose clamp all connections. I rode around with the zip ties with no problem. You can recall at the beginning when you remove the hose coming from the crankcase to the air box that the hose clamp was not even that tight, and could be removed by finger. So, I liked zip ties here.
- Here is the final picture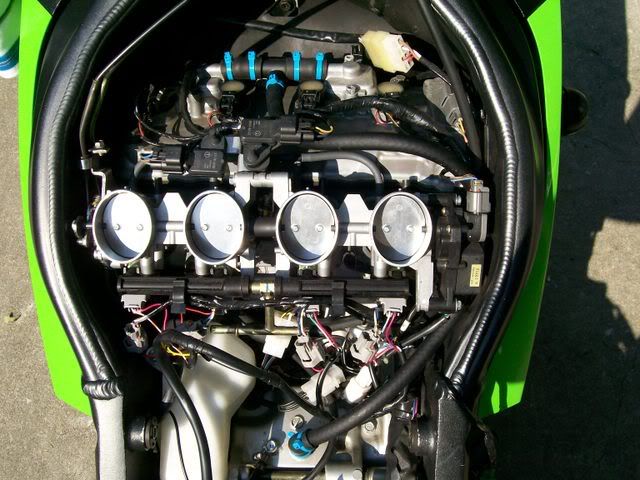 Step 9:
- Put air box back on, make sure its tight on there.
- Put tank back on, dont forget to connect the harness and fuel like, and route the vent down to the bottom.
- Put the seat and side panels back on
AND WAA LAA...YOUR FINISHED!!
NOW TAKE IT FOR A RIDE AND SEE IF YOU FEEL A DIFFERENCE
I FELT A DIFFERENCE IN THE THROTTLE...IT FELT SMOOTHER THROUGHOUT THE POWERBAND!
ANY QUESTIONS YOU CAN PM ME HERE..
MODS: I hope you guys approve this...it took me so long, I just want to help out alot of people who have been asking about this lately. LOL