I hate to always be the one to make these threads... But oh well. There are threads in EVERY SINGLE motorcycle specific forum about winterizing motorcycles and guess what? The process is damn near identical for ALL motorcycles.
In fact if you have one of those new-fangled internal combustion engines I'd bet the process on ANY ONE OF THEM is similar. So let me begin:
Gasoline:
This one's a biggie! Leaving gas sit for a long period of time is no good.
1)
Fill the tank as full as you can. The more the space inside of a tank for air to circulate, the more water can be absorbed into fuel (which is what causes gumming!) The most important thing you can do is fill your tank to the brim with 87 octane (AKI) fuel. Check your particular country, but most countries don't use ethanol in the lowest grade of fuel and ethanol is used often times to raise octane. Since ethanol is very hygroscopic (it absorbs water) running a full tank of 87 octane usually sees the lowest ethanol content.
2)
There are several different schools of thought on which additive to add to a fuel tank for winterizing. You'll get never ending debates on this one so I'll just present the 3:
a) Sta-bil.
Stabil is a fuel stabilizer. It prevents your fuel from breaking down, minimizes water absorbsion, etc. It's been around forever, so there's got to be something to it. Additionally Sta-bil Marine Formula is stronger and is geared towards preventing water absorbsion. It's very good if you aren't sure of your ethanol content in fuel.
b) Heet.
Heet is a "fuel anti-freeze". It works very well at absorbing water and if you're simply going to drain your fuel after Winter (like you should) then using Sta-bil to reduce the fuel from losing octane over Winter is kind of fruitless if you're going to just drain the tank in the Spring. Heet is magical stuff.
c) Seafoam.
Why yes, the magical fuel system cleaner that people swear by is also what people also use as their fuel treatment of choice for Winterizing. Adding adequate quantities of Seafoam to a full fuel tank is a legit option.
3) Run the engine!
Why not do a quick jaunt around town for 10 miles to ensure the treated fuel has completely circulated through your fuel system? Simply filling your tank and adding a fuel treatment isn't going to magically cause it to traverse your fuel lines, fuel pump, fuel injectors/carburetors, fuel rails, etc. You need to get that stuff through everything.
Check your antifreeze:
If you're in a cold climate you probably have or have access to an anti-freeze tester. They're inexpensive and simply measure the specific gravity of your coolant.
If you have a track bike which is going to be subjected to sub-freezing temps you'll probably have to drain your coolant and add an anti-freeze/water mix. If you have a street bike you likely may only have to drain some coolant out and add pure anti-freeze to raise the anti-freeze content of your coolant. If you live somewhere where the temps only get down to perhaps the teens then getting your coolant down to perhaps 0 degrees Fahrenheit stable doesn't take much more than 30% anti-freeze content. If you're somewhere where it might dip down to -30 degrees Fahrenheit then you'll likely need a 50/50 mix of anti-freeze and water.
Note:
By water I mean distilled water. Not purified water, not tap water, not ionized water, etc. but DISTILLED water. They sell it at every grocery store. Buy a gallon or two, toss it in your garage and use as needed. I literally have a gallon or two of distilled water in the garage at all times as it doesn't go bad and is safe insurance against corrosion.
Oil:
Drain the oil out of the bike and refill with fresh oil. Nothing fancy! Just cheap oil. Come Spring-time you'll dump that and refill with your oil of choice. During long sits oil absorbs water and becomes acidic so you're just using the oil for that purpose over the Winter.
SOME people also go the added distance, pull all the spark plugs out, and with a turkey baster pour a small amount of oil in each cylinder (like 20cc's), and crank the engine a few times (to get oil on the cylinder walls and rings), and then put the plugs back in loosely to prevent anything from finding its way into the cylinders. This is preferred, but some people go crazy with the oil and that can cause more problems. I personally don't bother (shame on me I know) because most modern motorcycle engines have aluminum head(s), aluminum pistons, and Nikasil coated cylinder walls. The only thing that could potentially be problematic are the steel piston rings. But then again they are often plated and don't corrode like piston rings of yesteryear. Then the secondary rings really wont see enough air to be affected.
Battery:
You can't leave the battery plugged in and expect it to not only still HAVE a charge at Winter's end, but to have not have permanently damaged the plates inside the battery. There are a few ways to take care of this:
Good:
Unplug the battery.
Better:
Unplug the battery and hook it up to a battery charger every month to top it off.
Best:
Unplug the battery and hook it up to a battery tender and forget about it until the end of Winter. It will remain fully charged and the periodic charging will keep it in "like new condition". Battery Tenders are less than $30 and literally will pay themselves off after ONE Winter season.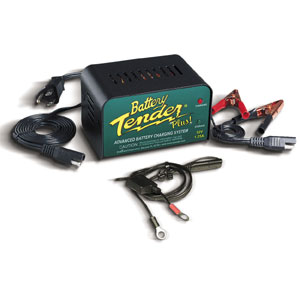 Tires:
Leaving hundreds of pounds of weight on a tire for a long period of time will cause the rubber to fatigue there and cause a tire imbalance. You can't leave a car/truck/motorcycle sit for long periods of time without hurting the tires.
Good:
Air up the tires to their max to prevent them from flat-spotting.
Better:
Swap the wheels/tires for a set you don't care about.
Best:
Put the bike on stands! For usually less than $150 you can get a quality set of stands to prop the front and rear of a motorcycle up to prevent the tires from rutting. Putting a bike on stands takes less than 5 minutes and is all the preventative maintenance you need to do for the tires for storage.
Note: Picture is of KF member
FarmerSTI's
ZX6r. It's a good example of a bike on stands :evil6:
Cover.
I prefer to stuff something into the muffler to eliminate moisture, air, rodents, etc. from getting in. Toss something like a bike cover over the whole bike, and you're done.
If there's anything I've forgotten or you have some tips or tricks, drop a comment. No one is ever content so I anticipate people chiming in that I'm a dickfore and they do everything completely differently and have had wonderful results over the past 50 years or so with their methods. Oh well.