Discussion Starter
•
#1
•
So Vinny (aka jester aka wingman aka slut) and I went to ACH on Saturday. It wasn't much of a ride but it was chill. I ended up going to Topanga CYN on my own after riding w/ Vince.
It was a chill ride from PCH to Muholland Dr. I actually got really comfortable w/ the the last 4-5 turns on the northern end. At one point, I felt my knee puck tap the ground
.. I was like whoa, ok. Took the next right turn to a long left sweep. Slid the puck for a good 2 solid seconds
(first time ever). Tapped it again on the last turn so I decided to make a U-turn back towards PCH...
When I passed about 10 turns I was gonna make another U-turn and do the same last set of turns to go home. I never got to make the U-turn tho. I came up on an area wide enough for me to pull over into the shoulder and turn around after traffic passed. I came in slow and I swear the ground looked different 15ft away than it did at 2ft. It was too late. I braked gently the whole time and put my legs out to the side to help. The front wheel sank in the gravel, locked up, and slammed me down on my right shoulder. It hooked up good in there, unfortunately.
Full leathers btw. Not a scratch on me. Hurt my back picking it up. My boots slipped in the gravel and I used my back to keep it from falling again. Bad idea but it was an instant reaction, I was lifting w/ my knees at first.
I don't have internet at my place right now so I'll be on when I can. I'm gonna be looking for a replacement left upper fairing. I think the lower one can be saved. Sorry for the phone pics but thats all I got right now. If anyone knows any place that now have 07 stock fairings please post a link. I'd appreciate it.
Thanks for reading, and thanks to the two riders helping me out, and the guy in the truck who stopped on a dime as soon as he saw me. THe whole experience sucked.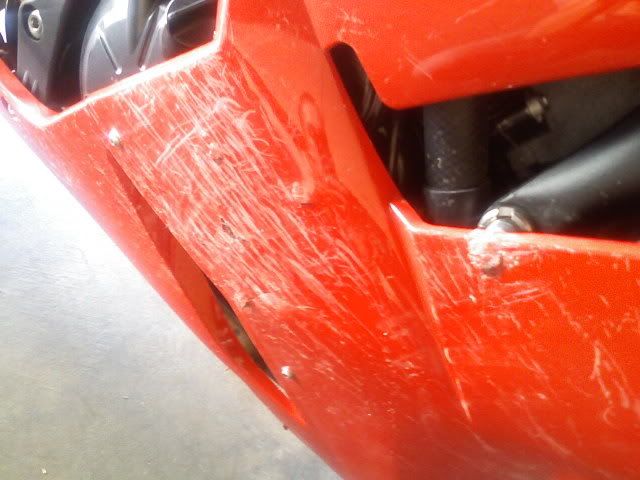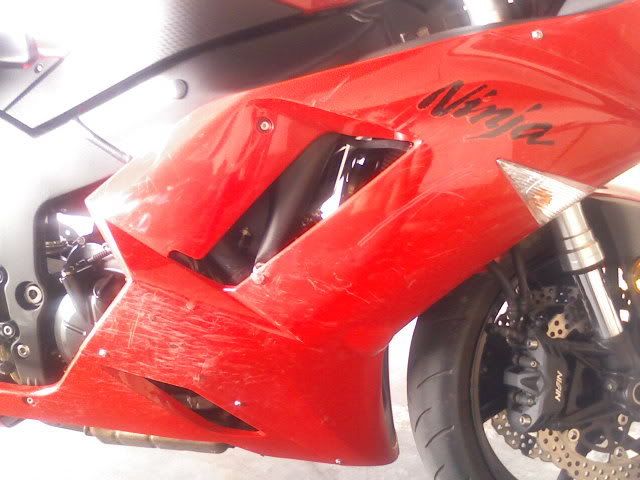 ...
bonus pic!! lol .. what can I say, it was pretty exciting until I fell