Discussion Starter
•
#1
•
This will be my first time running this track and it is the last trackday/weekend in 2013 for this Org. Anybody in to join in on the fun in Nevada?
Howdy folks,
I wanted to notify every one of the changes coming up out at Spring Mountain Motorsports Ranch (SMMR) in Pahrump Nevada. But before I do, as I know people often comment on the distance from wherever you live, please just know that this country-club quality resort-track is
phenomenal!
No good things are had without effort. This track is no different. Once you're there, you'll understand why everyone always speaks so highly of it.
Now, on to the details: This September 28th and 29th is the LAST CHANCE to ride the current 2.4mi "North Track" configuration at SMMR! This track has an amazing blend of sweepers, decreasing radius, increasing radius, chicanes, and tight corners; it runs the gamut! The paddock is open to camping, and there's a shower in the [very nice] Men's restroom, so you can rinse off after a long day. Temps are expected to be mid-80's this time of year. Does it get any better?!?!? Maybe! Ti2TT runs an amazingly on-time day. We have less crashes than any other org, and that leads to more riding time for YOU. We operate on time, all day. Don't worry about having to listen for announcements, just watch the clock, and be ready to ride. Plus- we use the tracks state-of-the-art LED lighting system instead of flag-workers. There is whole team responsible for keeping the track attended and alerting riders to upcoming safety issues on track. It's the ONLY TRACK WE ATTEND with such a system. Super-cool!
You can sign up
HERE
and also view our
Facebook
page for updates.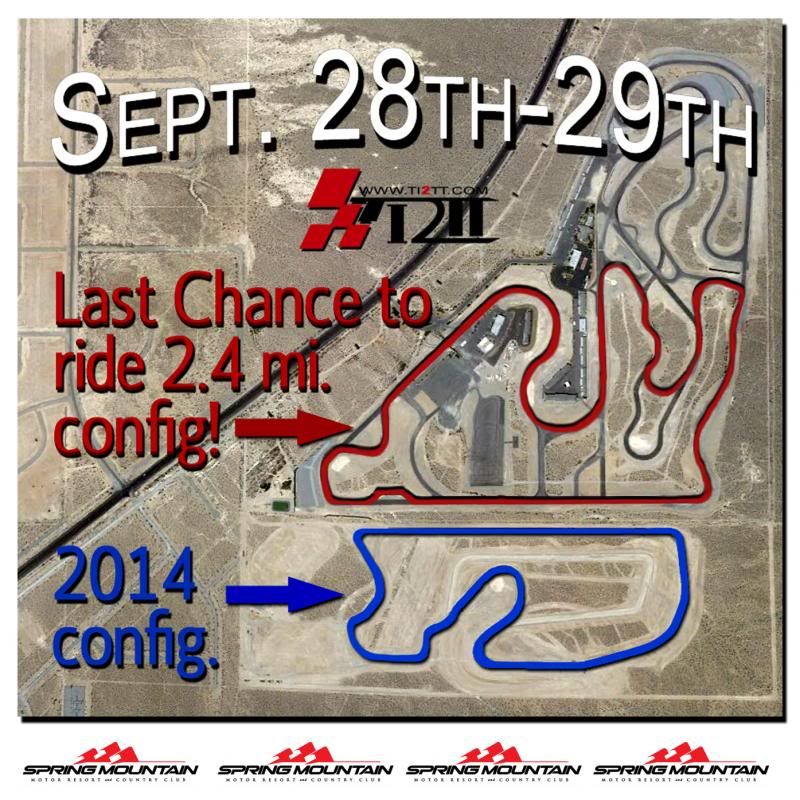 Next year we will only be allowed on the new piece of pavement that they have just laid. The new piece is only 2.1 miles, will be more expensive, and less of a blend of riding techniques. However it will have an even
smoother
surface [I didn't know it was possible!] and is said to have more grip. The new track will have its own entrance to the facility, its own bathrooms and showers, and its own lighting system.