Discussion Starter
·
#1
·
I've never understood why they call it Labor Day when nobody's working.
At least I wasn't about to on this weekend unless you call riding a motorcycle across the state of Arizona laborious.
Since moving to this great state I've been kind of out of touch with time and dates. I am a born again bachelor since my girlfriend and son are 3 thousand miles away from me at this moment. So as this holiday came upon me I didn't even know what to do with the extra day thrown into my weekend. Only several days before it, I was creating ambitious plans to ride. Threw out a couple of feelers until I got Pauly (member Low Down) to agree to take a 3 day ride with me.
The first leg of the trip I was to ride down from Florence through Mt. Lemmon and down to Tucson with Shelby. Here he is dropping the pressures on his Vstrom once we hit the Florence-Kelvin highway.
This is the first "highway" that I've ever seen that is almost all dirt road. You can ride at dirt uber-speeds though it. It is quite the blast!
It's been raining severely for the past several days here in Phoenix and anyone that has lived here knows how the desert changes from one day to the next. These rains have beaten into
the washes
(for the record, I didn't even know what the heck a wash was before I moved here). As we were coming out of Willow Springs I was feeling good and going at a good clip when WHAM! I was just cresting a hill and came upon a wash with a deep rut running right through it. I hit it hard and did a running endo for about 15 feet. I somehow managed to keep the bike in a straight line and rode it out but I will certainly need new underwear.
My BBQ rack didn't fair as well as I did from my rutted encounter.
I completely bent the brackets but this rack is a tough one.
Onward we rode into Oracle and through
Mt. Lemmon
. Here we are looking upon it.
The weather was calling for showers and Pauly was iffy about joining me through the entire ride because of it. I just kept thinking to myself, "man, these Arizonias are wimps. First they don't ride because it's too hot, now they also don't ride because of rain?" Geesh. But as I looked up at Mt. Lemmon, Pauly's words kept ringing in my head.
Mt. Lemmon is a jewel of a place. It is very close to Phoenix but it's about 15 or more degrees cooler than it is down in the valley. The road up it wraps around the mountainside in magnificent manner while it provides you glimpses of the Sonoran Desert on one side and the seemingly descending clouds at the other. As you climb the terrain gets a bit tougher but not overly challenging. It is a great big-bike ride.
When we reached the top at a town called Summerhaven it was very cold. It's amazing how diverse a place Arizona is. Scorching in the valley only an hour away and freezing up here in the clouds. This trip would only heighten my already growing love for this place.
Shelby and I headed down the Catalina Highway to meet Pauly at Tucson then onward toward Willcox, which would be our first destination. Riding through Redington pass.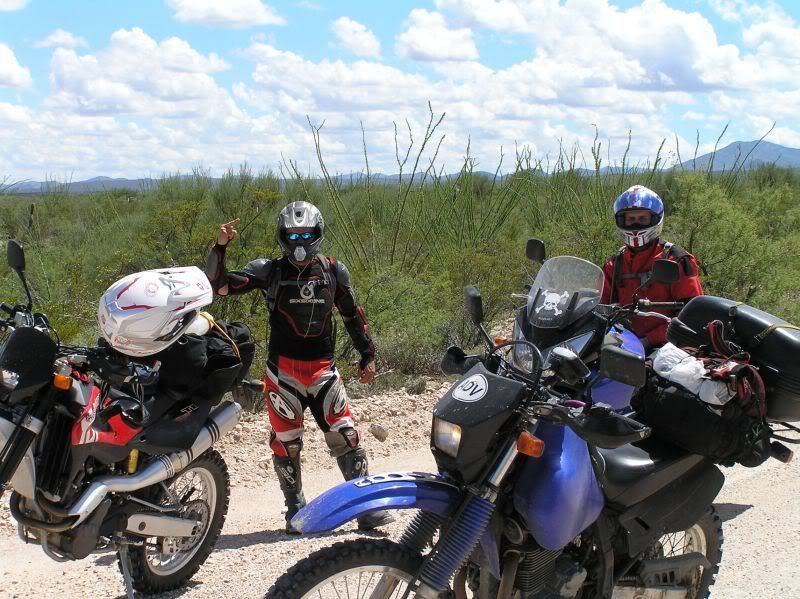 Pauly's gorgeous Italian broad.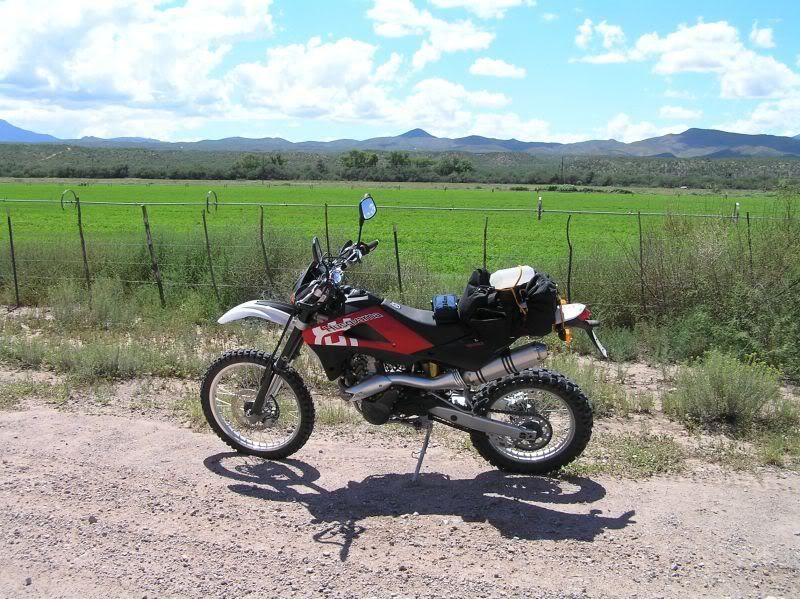 Once at Willcox we had time to unwind and down some liquids.
Made the repairs to the rack much smoother.
Day one was in the books.