Discussion Starter
•
#1
•
I posted this on another forum but figured might as well add here
I got the bike several years ago. It was in really bad shape with a cracked crankcase. I took it apart, then got other bikes, moved away on different jobs, and the bike was sitting in boxes in the meantime. Then I finally got back and started getting it together.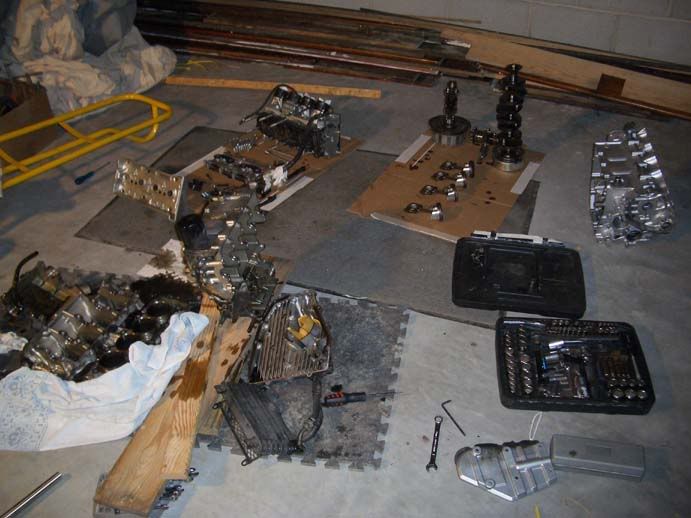 Switched out the crankcases...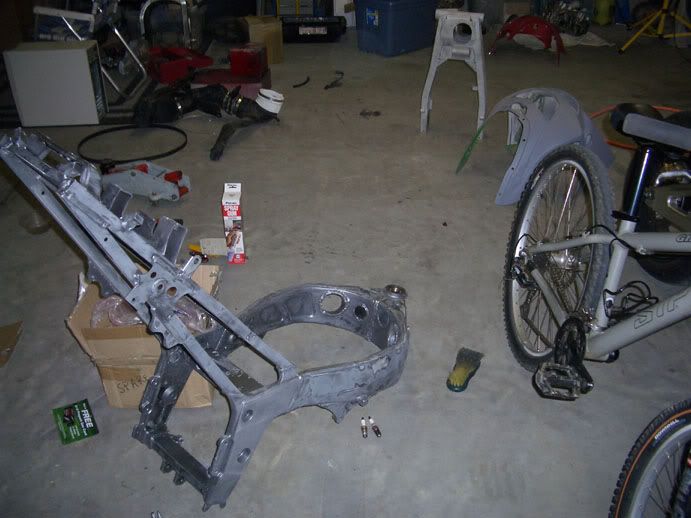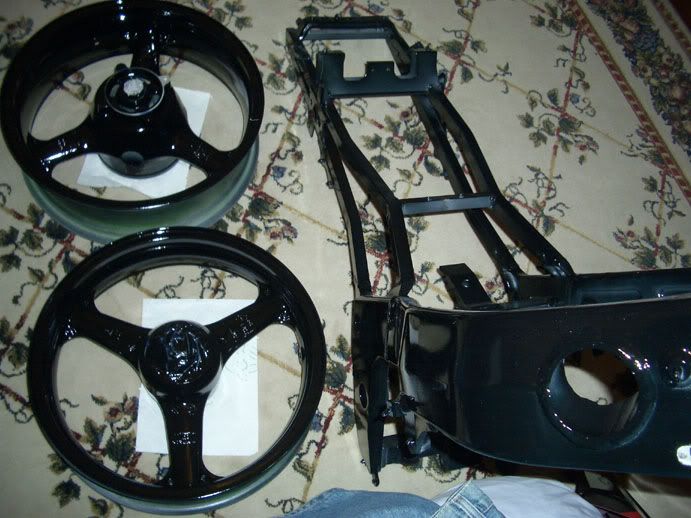 Painted the frame and rims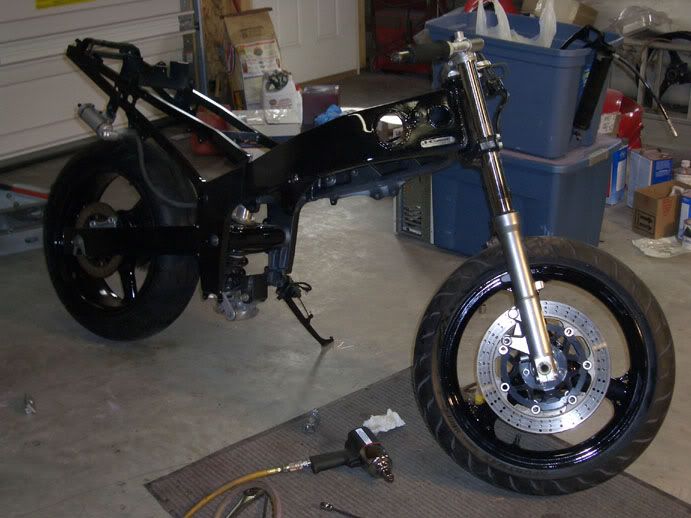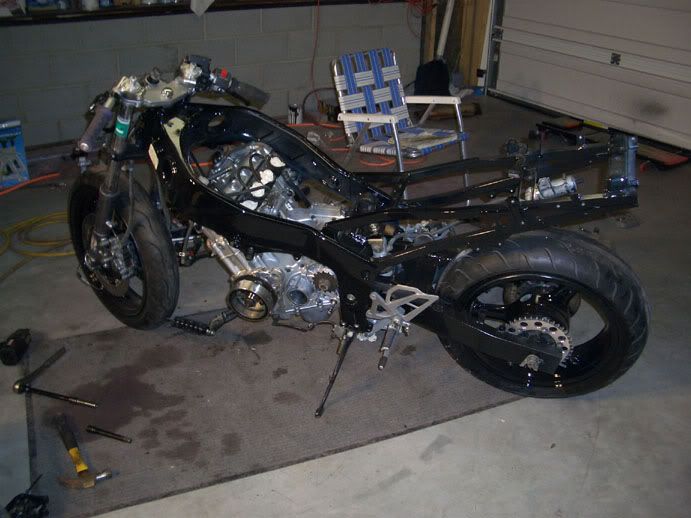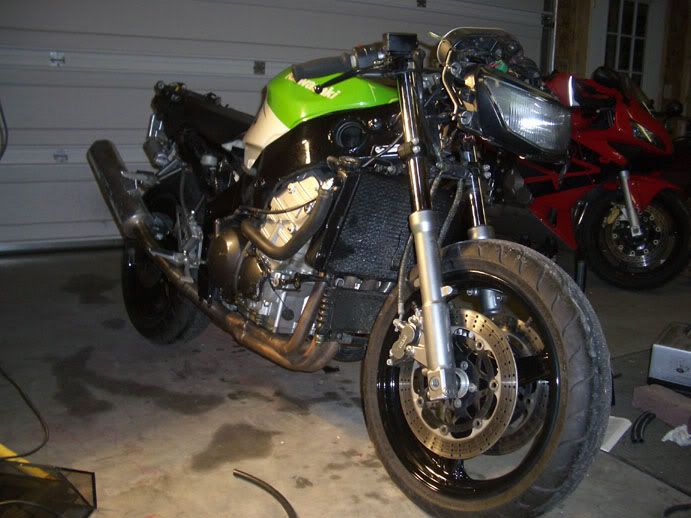 It's together
Then I decided I might as well turbo it. Why turbo an old 600? For the hell of it. Turbo busas are everywhere and so are kits but you don't hear of turboed 600s too often.
At first, I was just going to leave the carbs and have a blow through system. Then, the more I rode, the more annoyed I got with it flooding out on every decent stoppie.
So, I began the fuel injection conversion...
I got 636 throttle bodies off ebay. They're spaced exactly the same as the stock carbs but are quite a bit bigger so you can't use the stock manifolds with them. I got some 636 boots, but the holes don't lign up with the ones in the head. This is probably the most ghetto part of the entire build but that's how I modified them to fit. Cut out some slits in the sides and use some clamps on the bolts to hold them down on top. Works well.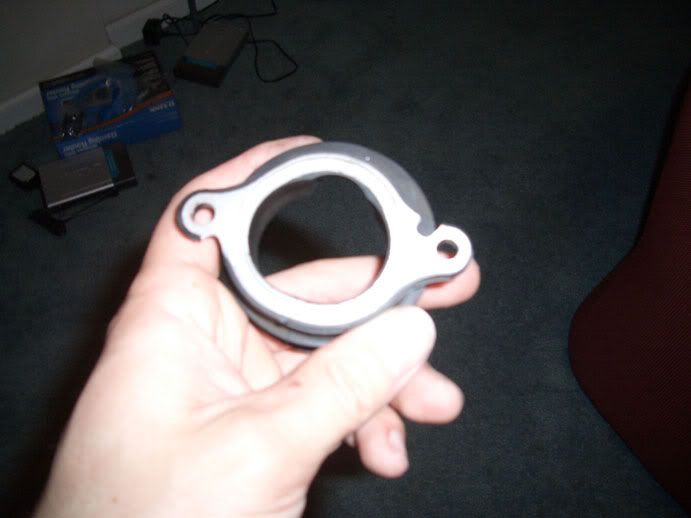 Another problem was discovered here...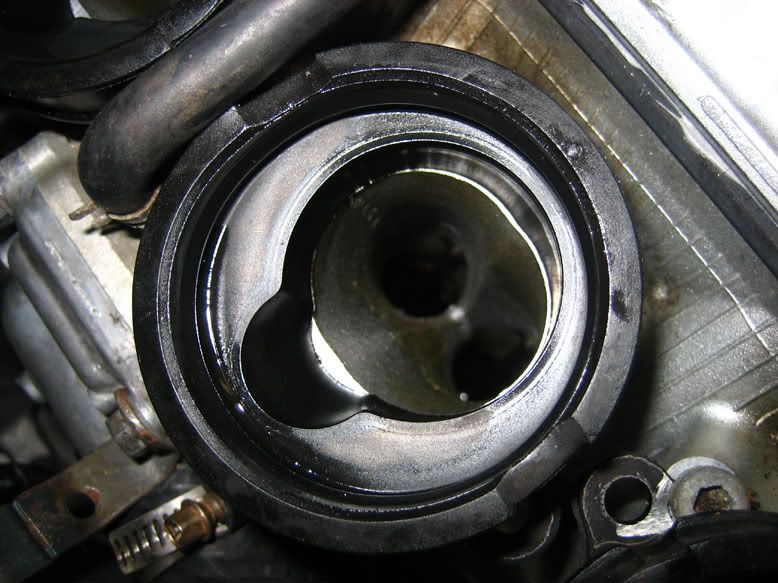 Right where the injector sprayes the heads differ. I didn't want to mess with the head and let it go for a while. It worked ok but the next time I had the head off I ground off the protruding part of the head. It made a really big difference when getting on and off the throttle. I'm sure fuel was puddling up there before.
I forgot to take a picture with the throttle bodies off but you can make it out here.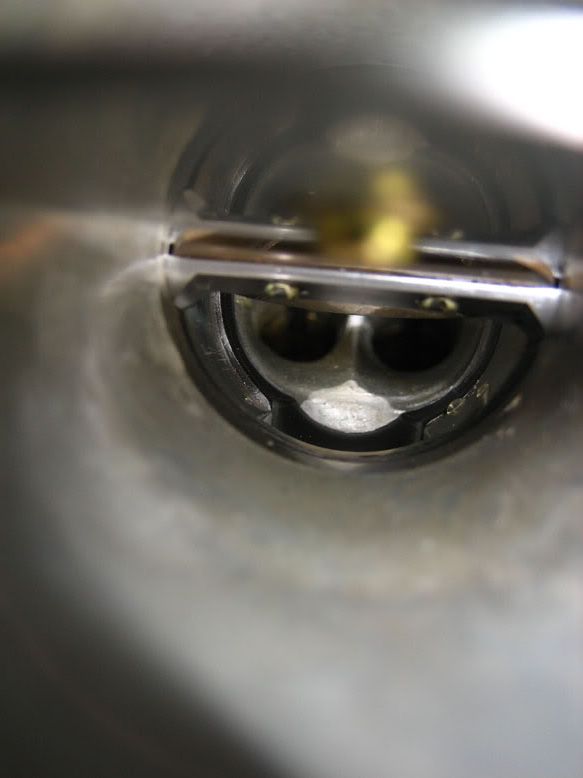 The throttle cables also had to have a part of the outer portion removed to make them proper length but that was a quick fix.
Next came the fuel injection computer. I got a Megasquirt ECU for $250. It does what 1500$ computers do and probably even better. It comes as a kit and you have to put it together. Not hard but takes a day or so to do. You just get the PCB and then you have to solder everything on it.
http://megasquirt.info
has all you need to know.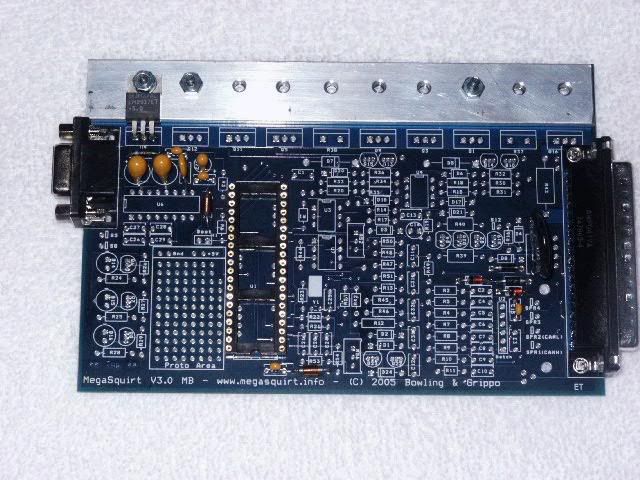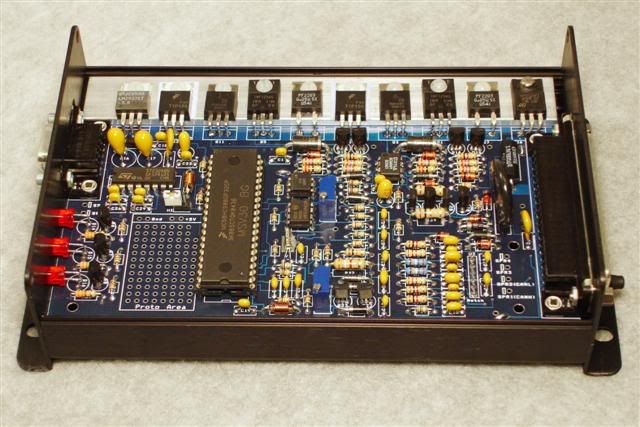 Then I had to make the fuel system. Got a high pressure fuel pump, 1:1 boost referenced fuel pressure regulator. Also, since the original fuel system was carburated with an external fuel pump the tank has no return line which is needed. At first I just used the reserve as the fuel source and the normal line for the return. The return is supposed to empty into the top of the tank, but it worked ok like that. The only problem was having to keep really good track of your fuel since you no longer have reserve and no low fuel light.
Finally I ended up getting a fitting, brazing in a copper tube and bending it to shape so that it empties into the top of the tank.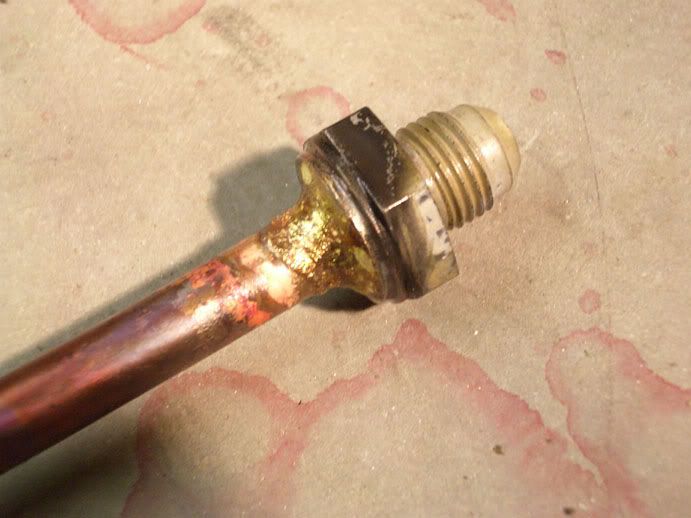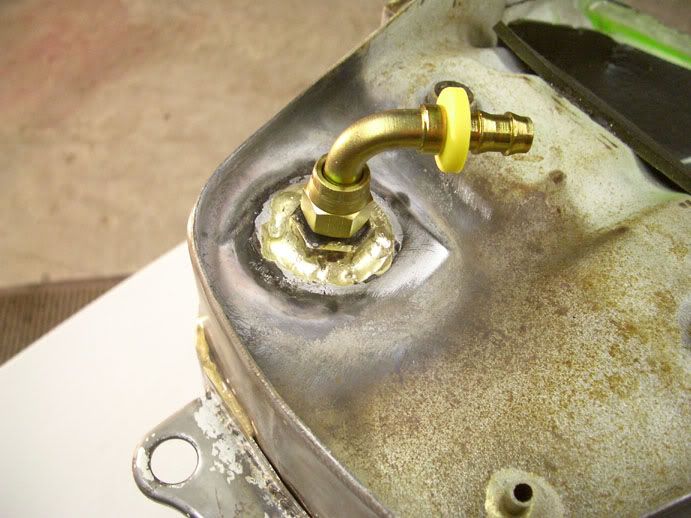 Return line is done.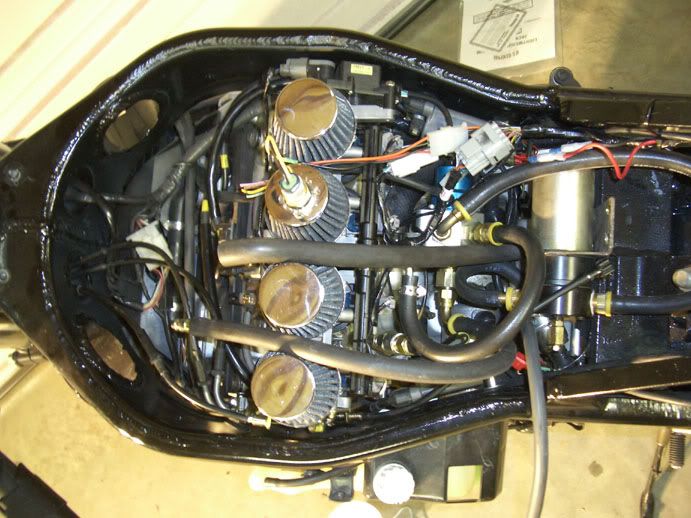 The fuel system...Using pod filters and you can see the intake temp sensor in one of the pods. That fuel pump later broke and I got a nice MSD one from Summit Racing.
Then I had to make the wiring harness which was probably the most tedeious part of all.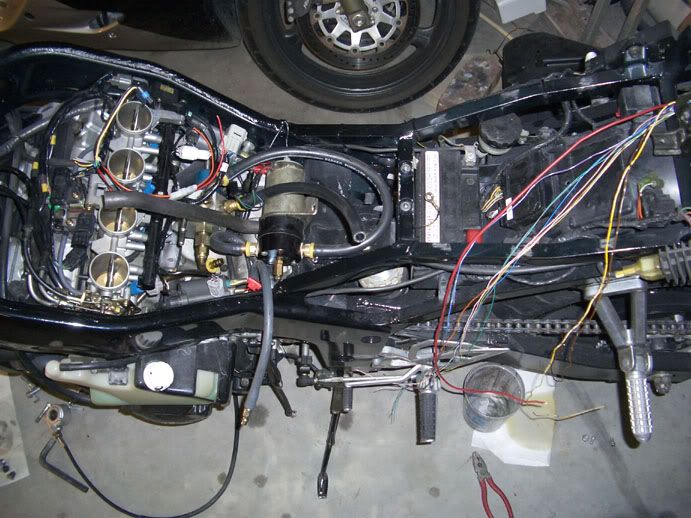 You can see the secondary butterflys open. The ecu controls the secondary butterflys on the 636s. I just left them in the open position and later on just going to take them out all together.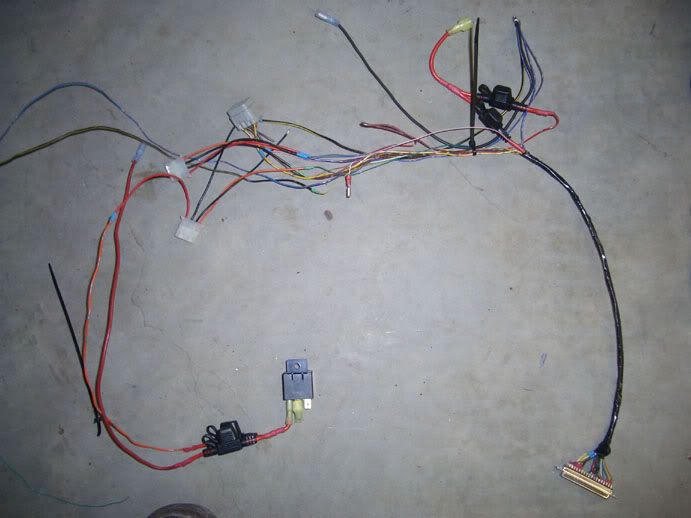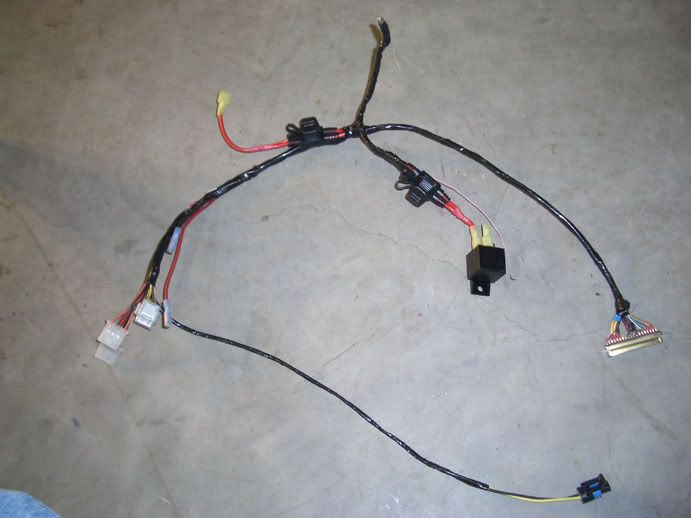 Done with that.
The stock temperature sender wouldn't work right with the megasquirt so I ended up cutting a couple fittings apart and brazing them together so I could use a GM temperature sensor.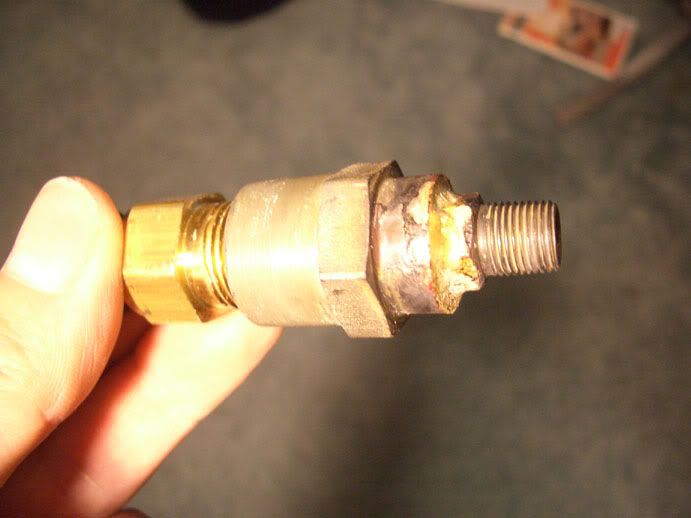 That was pretty much it. I got it started up, managed to get it tuned to where I could go riding on it but it still wasn't very good at all. The actual adjustment part is really simple. You just plug the ECU into the computer and you can change whatever you want. But it's nothing like a power commander for example. You have such a larger range of adjustment that it can be very hard to tell if you're extremely rich or lean.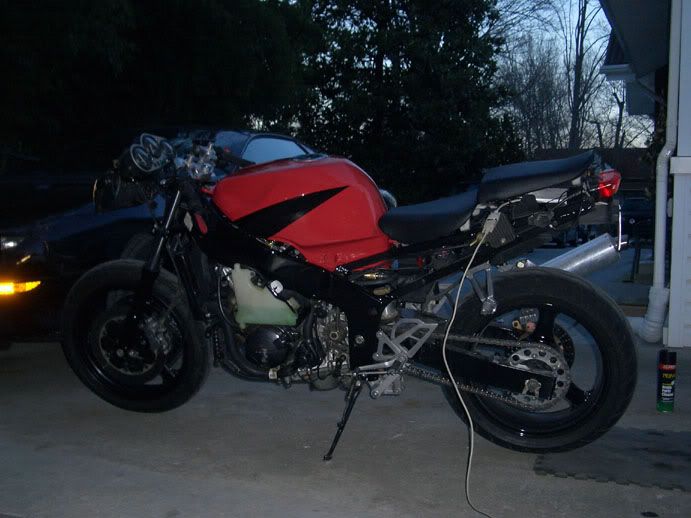 It is really nice to just plug in a computer and change something instead of having to take everything apart to rejet.
So it was either the dyno or yourself. And the dyno people here would be completely cluless with this whole setup.
So I got a LC1 wideband oxygen sensor. They're only $200 and are probably the best thing you can ever get if you do your own tuning. Plus with the LC1, megasquirt can do a full datalog and you can tell exactly what's going on in any point in time. You can also run in closed loop mode.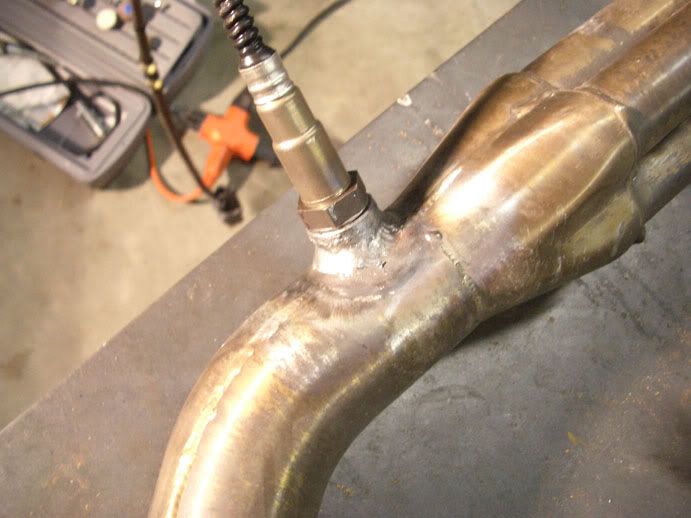 Welded in an oxygen sensor bung.
Pretty quickly I had it running fairly well but not perfect. The worst part was the acceleration enrichment. No matter what I did it was either good at low rpm and bad at high or the other way around.
When I first oredered the megasquirt I got the Megasquirt II CPU which was 110$ or so at the time. It was supposed to have some resolution improvements, so forth but the acceleration enrichment just was not really meant to work with high rpm individual throttle body engines. After struggling for many hours I ordered the Megasquirt I cpu which is only $15. It has many extra codes you can run on it and it solved the problem by enabling RPM based acceleration enrichment.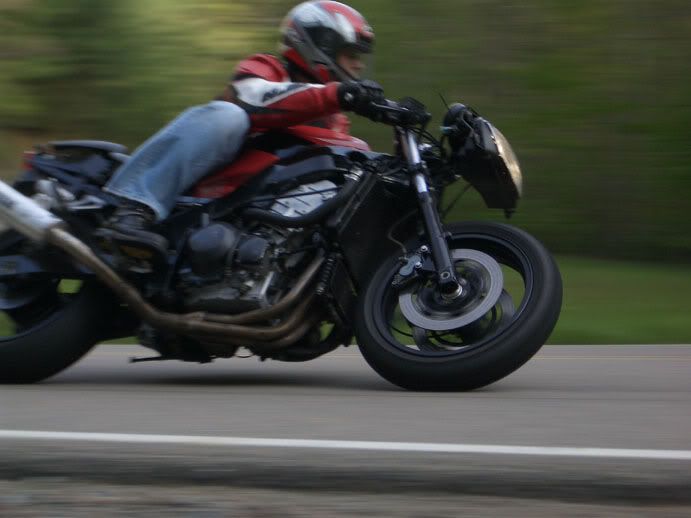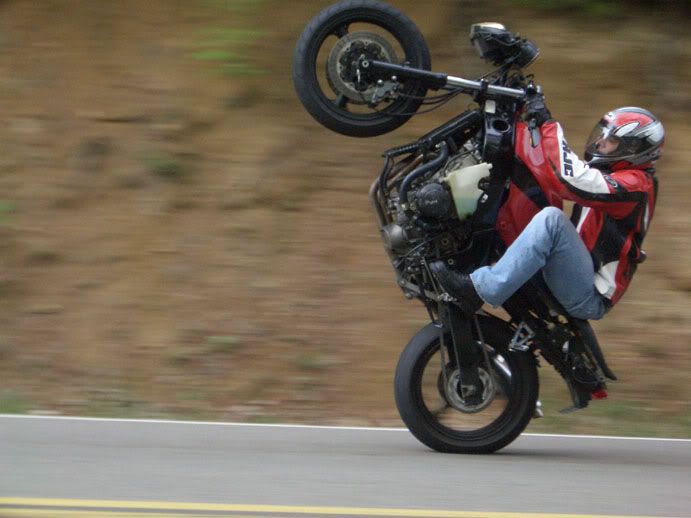 Running well enough to wheelie
Time to start working on the turbo part... I got TD03 turbo from a guy in Japan on ebay. Should be pretty quick to spool.
Had a machine shop cut me some flanges for it. I got a used stock header off ebay and started cutting away.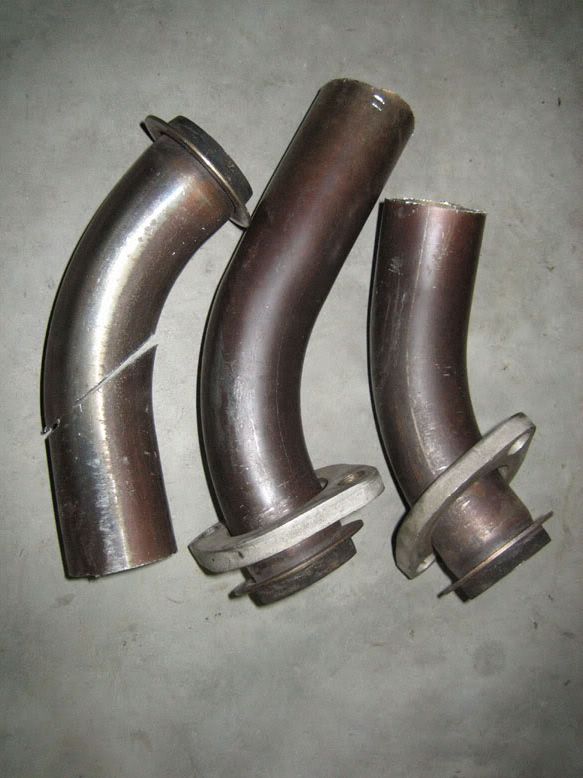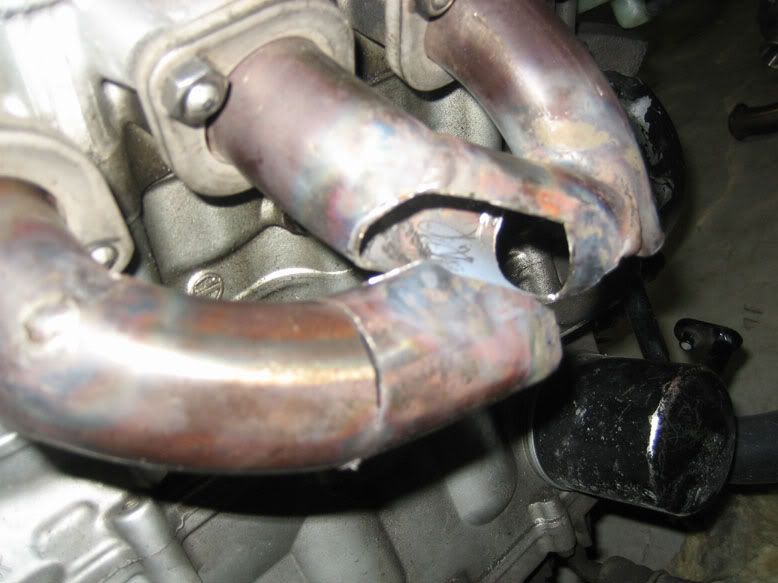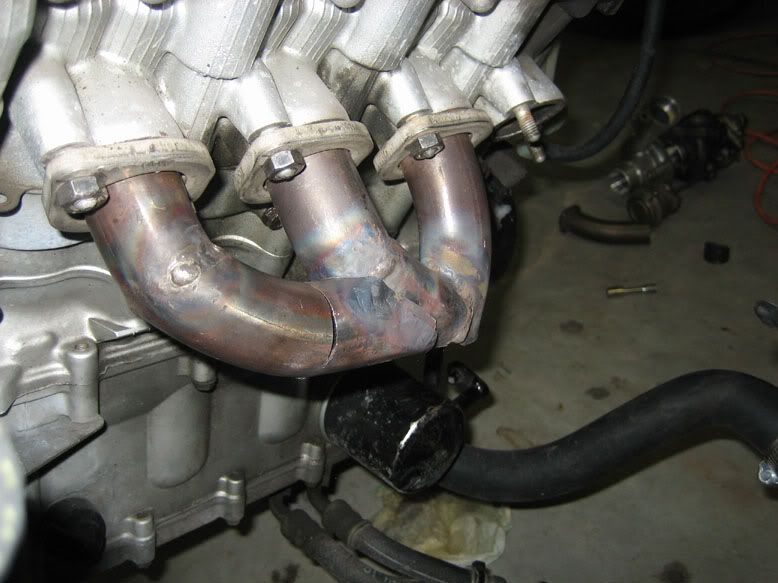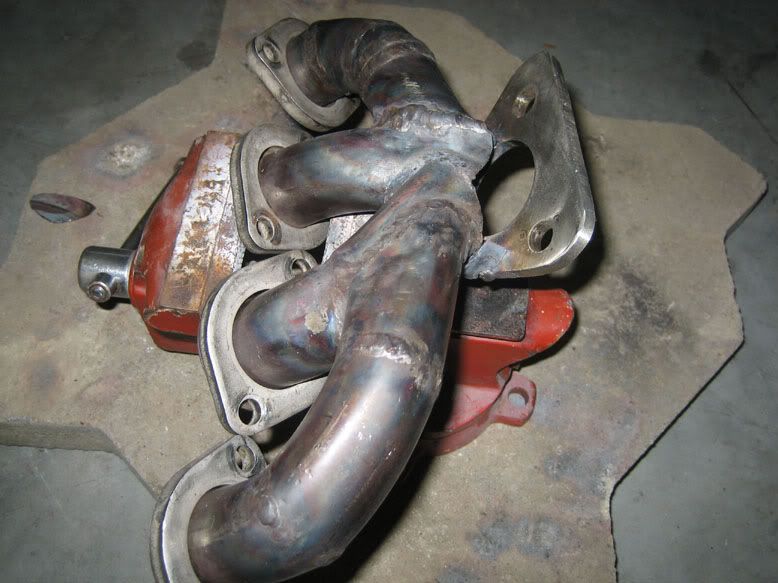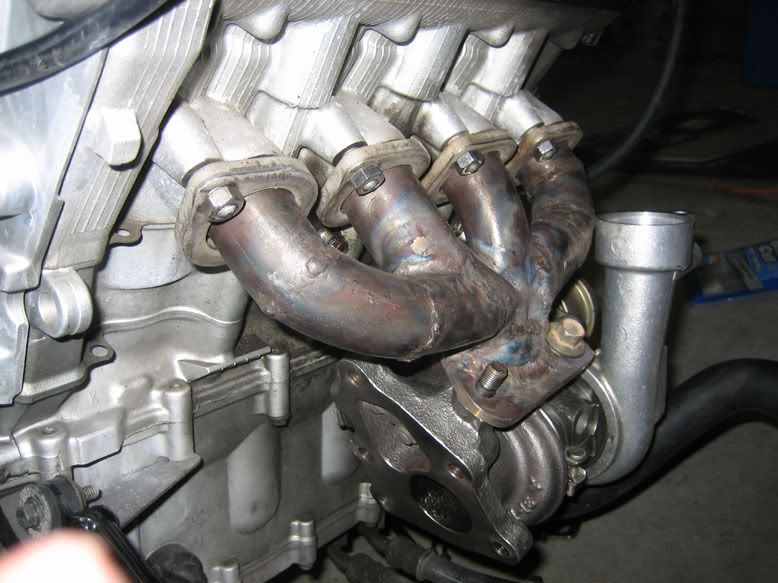 I think making the header was the hardest part of it all. I still don't have the header cleaned after the welding. Will be a nice and shiny sooner or later though
In the meantime, I had a leaking shifter shaft seal. Oil kept getting lower and lower and I kept putting it off. Soon with all my "tuning" and wheelies I hear the knock of a spun a connecting rod bearing. :lol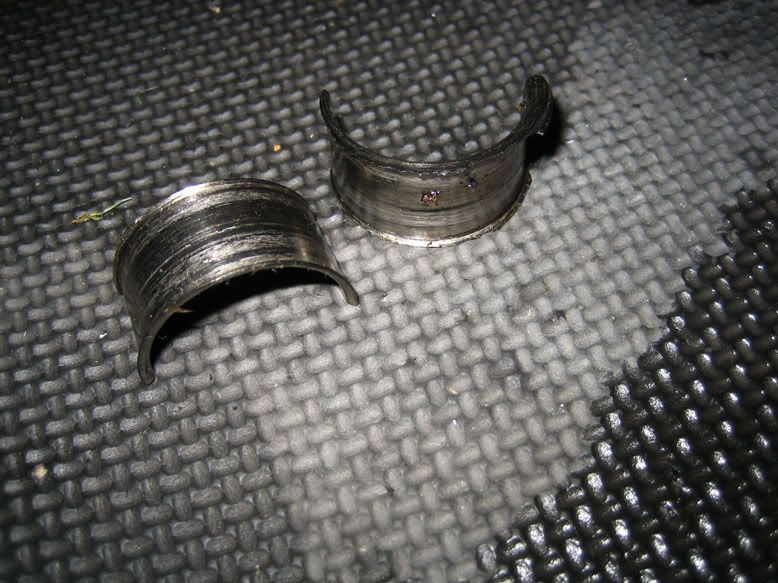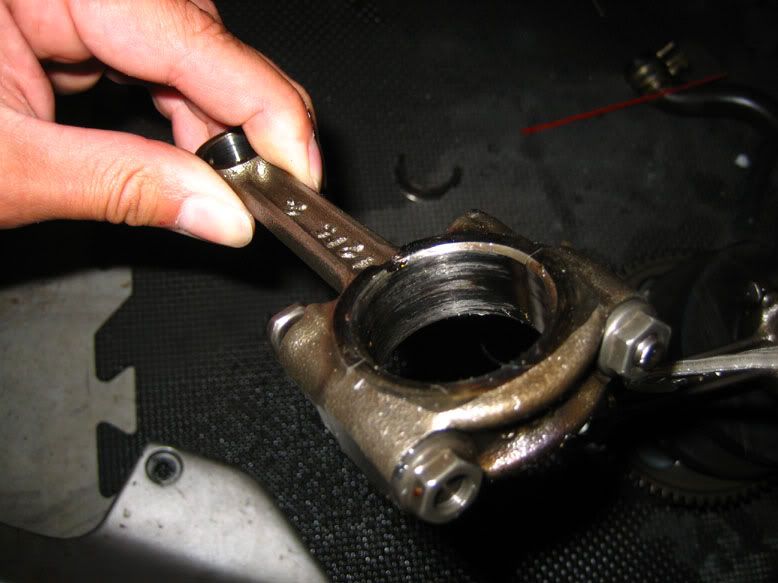 Back to this...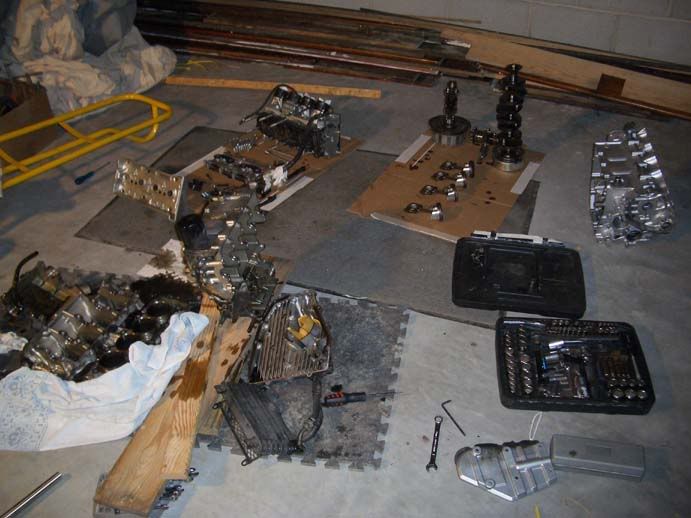 A $100 ebay crankshaft with rods and it's as good as new
Also gave me a chance to put a .094 cylinder base spacer in to lower the compression. You can see it (copper).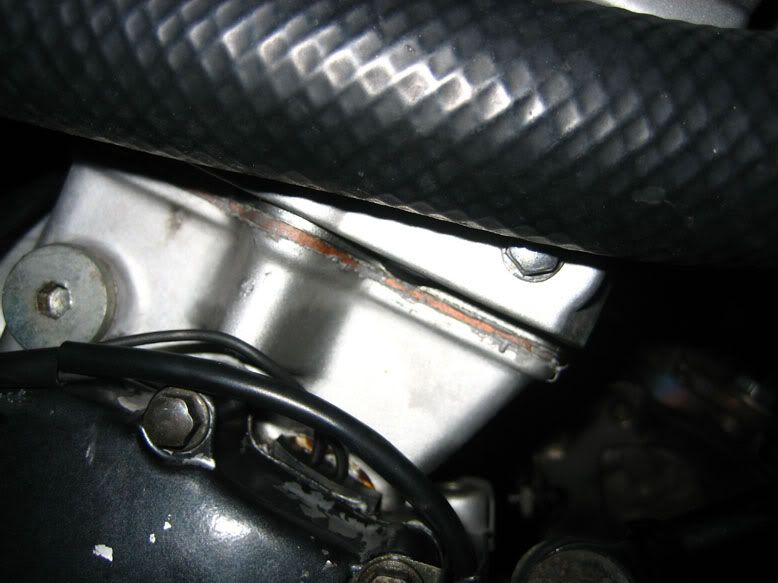 Got it together at about 3 in the morning. Woke up at 8, went to the garage, just about every tool I had is stolen!
About $6700 of stuff is gone. All I had left was a screwdriver and pliers. That was a couple weeks ago and insurance is still working the claim hopefully I'll get something back. At least I'm glad I got the engine back together that night.
Had to go buy about 1200$ of tools just so I could keep working on things in the meantime.
Today I took the oil pan off once again and welded in this bung for the oil return.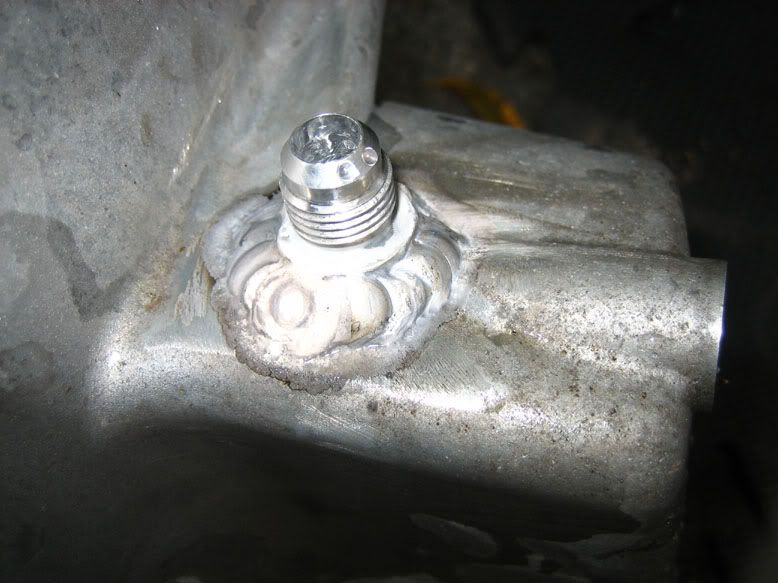 Ran the oil supply...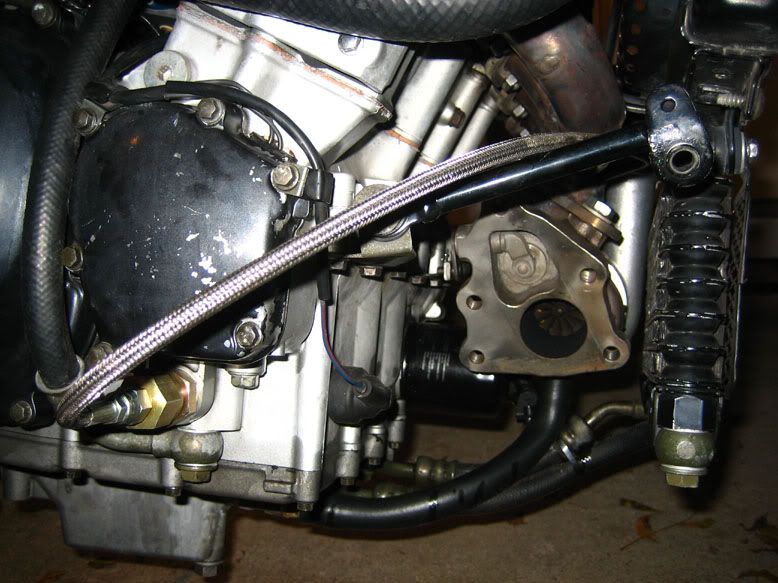 Need to get a 90 degree fitting though.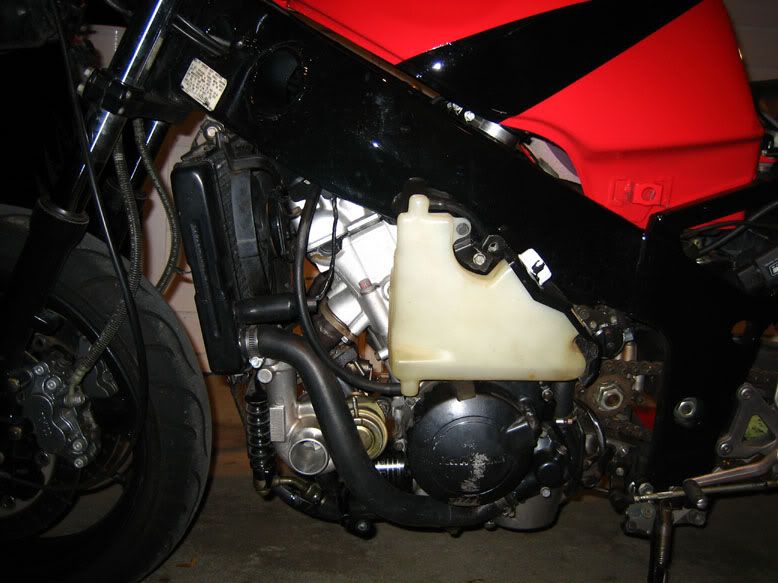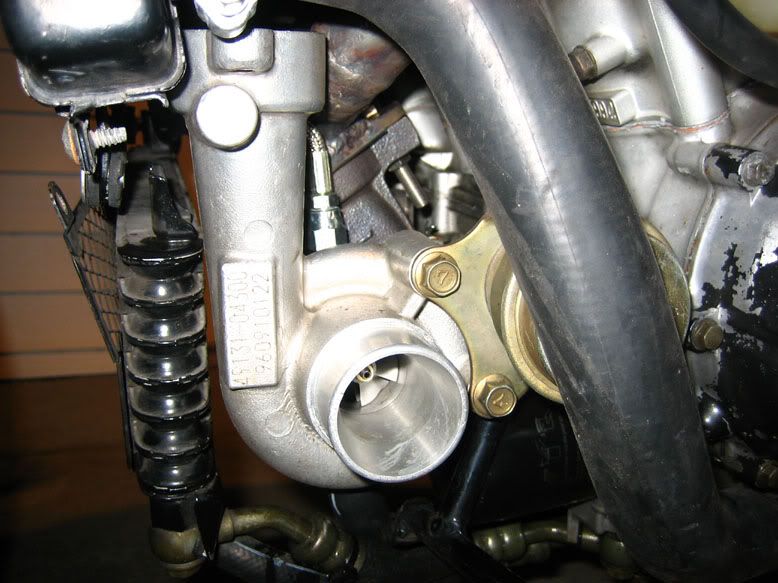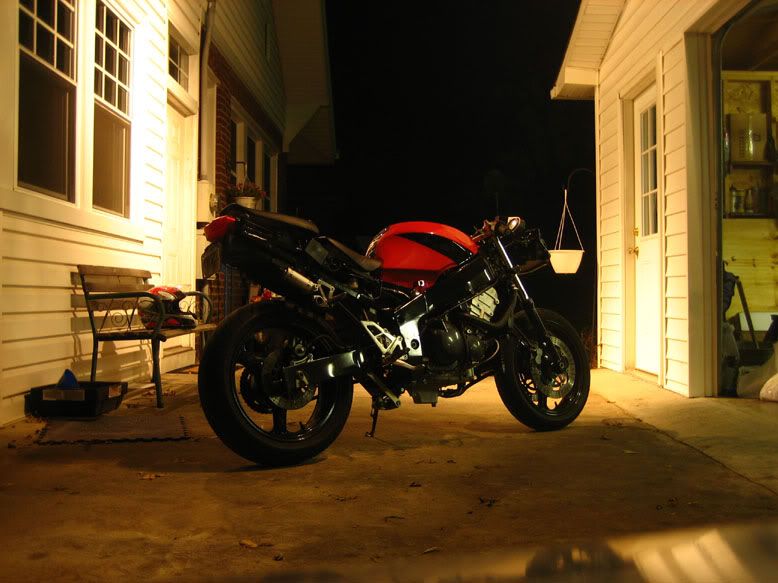 Went rode around the block. Sounds pretty cool. Completely out of tune but I may tune it tomorrow.
All I gotta do is make the up pipe and finish up the plenum. The rest shouldn't be too hard. Just need to order some tubing. Have to paint the plastic too. Although the upper may have wait if I can't fit the intercooler under it.
Hopefully I'll post some updates soon. Although there's talk of me having to go to Cancun for a month. Hopefully not for that long though.
Max