Discussion Starter
•
#1
•
Yes, this is my tale of restoring a beaten-on, stunted, broken ZX6R back to its former sleek sexy self. Along the way I decided to upgrade where ever possible, so hopefully when it's done it'll keep up with some of the newer bikes.
I obtained it in an extremely impulsive trade with one of my friends when he rode it over to my apartment. An hour later, he drove my '98 Dodge Ram on 42 inch TSl's home and I kept the Kawi.
The day I got it: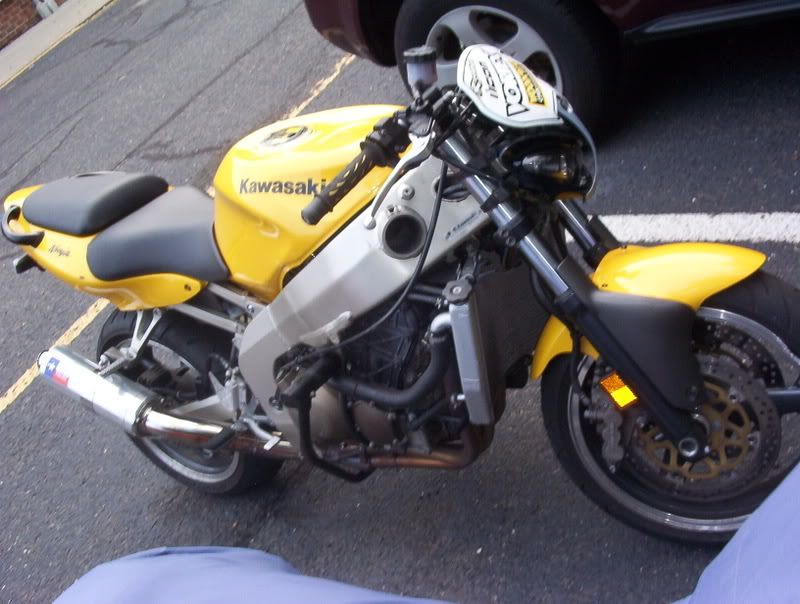 The bike had no gauges, front or lower fairings, a broken frame tab, a stunt cage, and had alot of little issues, but God D%$# was she fast! My previous streetbike experience came on a 1992 Honda Nighthawk 250 packing a walloping 17 HP, so the feeling of having my head ripped off from the G forces was a bit new to me.
I saved alot of money the next day, as my friend had the front and lower fairings, headlights, gauges, mirrors, and a yellow helmet for me when i stopped by his house.
The first thing i did was immediately rip of that stupid stunt cage. Take a guess why one of the subframe mounting tabs on the frame was broken off when i got the bike. Yep, the bike fell over with the cage on...and all of the impact when right to the cage mounting point-the frame tab! so much for the cage adding bike protection.
Then, i needed to make a front fairing repair. I've never attempted any fiberglass repair before, so here's what i ended up with:
A couple weeks later (and after an expensive order from Ron Ayers), my bike looked like this:
Since then i have done even more to heal this bike. I've installed over $80 worth of new factory hardware, $100s in brackets, gas valve, mirror stay, new windshield, engine mounts, etc. It was starting to look pretty original again-- which meant time to modify like hell!
First purchase? since i have a bent front rim now, I bought these sick wheels from another member on this forum.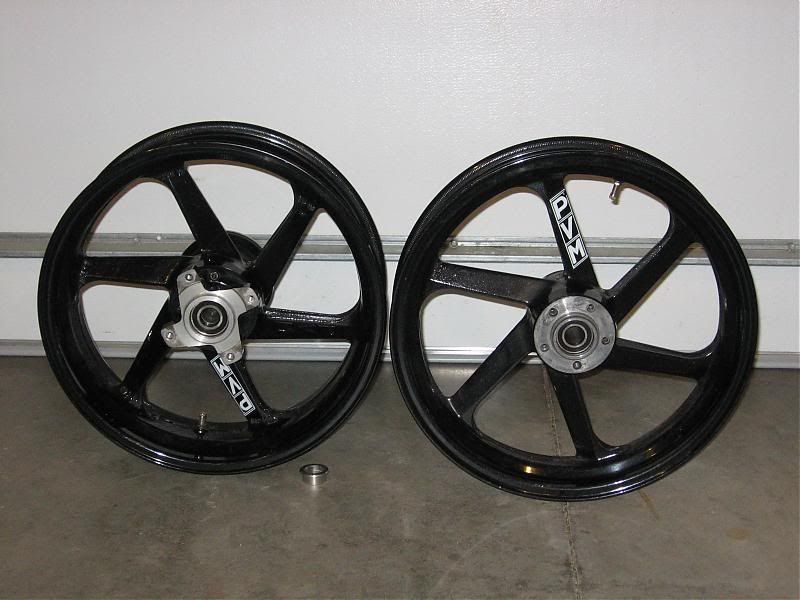 I also just got my order from Sum of All Parts, for these sweet looking sprockets and chain. I had decided to get back near stock gearing, so i went with a 14/42 tooth combo. Currently the bike has a stunt set-up with a 50 tooth rear sprocket (I don't know what the front is). I rode the bike all last summer with this setup, and I can't stand the buzziness anymore. The new rear sprocket look awesome, and i think the black sprocket/gold chain combo will go well with the new black wheels.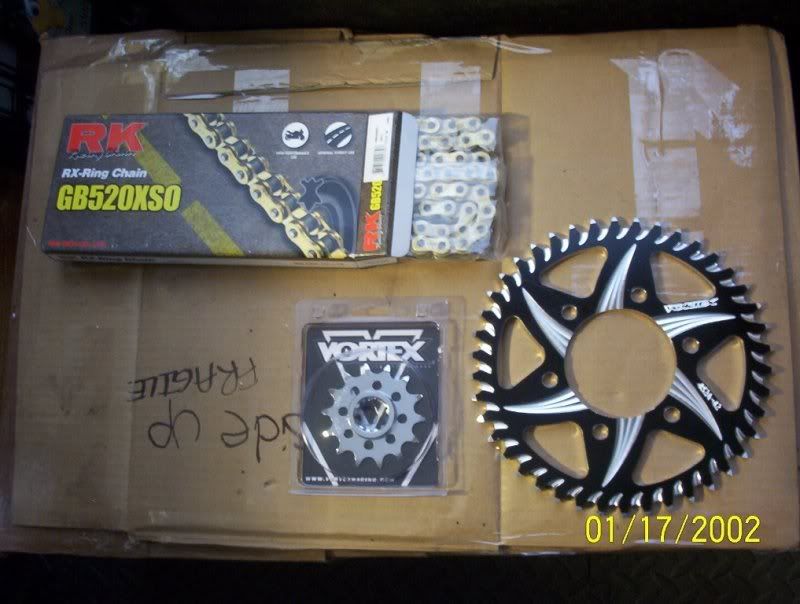 I just got the carbon fiber looking aluminum pegs i found on ebay for cheap ($30 for all 4 pegs), and here they are on the bike. I also painted the mounting hardware black. You can see how ugly the old chain and sprocket are here. Also, what do you think of the Vortex sticker? Its just on there with a small piece of tape to see if it's a keeper for now.
Also picked this up, I'm waiting to install it because i plan on checking valve clearances and syncing the carbs at the same time, and i need to get a carb sync gauge still.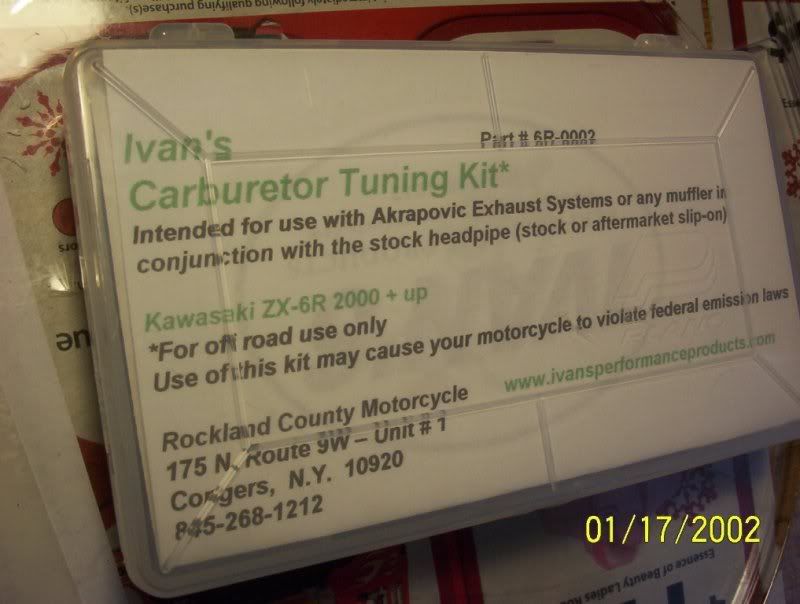 My next plans? I am waiting to receive a steering damper from a forum member, and i also ordered brand new Michelin Pilot Power tires to throw on these new wheels. I also intend on totally cleaning the bike as i take it apart for these installs.
My next purchases will most likely be:
a Factory Pro ignition advancer
a new Kawi gas cap decal (if i can find one that i like)
possibly a 03/04 gauge swap
and if i can part with the $250 (lot of $$$), i really want this pro-bolt kit in gold:
http://www.tastynuts.com/acatalog/Kawasaki_ZX6R_G1_G2__98-_99.html#aKITAKA191
So let me know what you think, and if you have any suggestions on cool upgrades.