Jr. Member
Join Date: Jul 2018
Posts: 25
NO SPARK ZX6 please help!
---
Hello. yes another no spark thread. I was hoping someone could help me figure out why.
2000 zx6r been sitting for years. plugs pulled, some oil down spark plug holes, good compression. neutral light and running lights do not come on but bike will power up gauges and turn starter. nuetral light has been grounded and is on now.
clutch switch bypassed at harness side.
kickstand switch bypassed
kill switch bypassed.
I do have a wiring diagram and a multimeter (cheap one) I have a haynes manual but does not give me the breakdown i need to chase this electrical gremlin
Continuity check at stator=ok
Continuity check at pick up coil=ok
gap at pick up coil=ok

6.13 volts to grey wire at ecu...until i crank it then it drops to 5.00.
.4 reading at black and green wire at ecu
absolutely no spark.
12 to coils
11.2 at battery when cranking....dont think its a battery problem
1. The rectifier burnt the connection its now hardwired, but im pretty sure the rectifier and or the stator is toast.
2. Is the voltage drop at ecu when cranking stopping the full 6 volts from sending signal to fire?
3. If i manage to bump start the bike and hear it sputter does that lead me to the stator?
4. if the rectifier is bad or not connected will this prevent spark?
5. which color wire at ecu is the interlock wire so i can try to ground it?
This bike has me stumped and previous mechanics it was taken to could not figure out the riddle.
Ive researched until i am blue in the face and am almost ready to supply 6 volts from a battery to the grey wire just to see if i can get spark.
Please help
thanks
---
Last edited by KAWI3; 07-27-2018 at

10:20 PM

.
Jr. Member
Join Date: Jul 2018
Posts: 25
After reviewing the wiring once again, the rectifier power wire (brown) runs to the ignition and tailight and without a working rectifier the ignition wont get power. I dont have taillight or neutral switch without grounding it, odd I didnt think you needed a rectifier to provide spark but clearly the power wire from the rectifier runs straight to the ignition.
at least thats what i think until the new rectifier comes and hopefully the stator isnt burnt out
can a factory trained mechanic or shadetree boss confirm this theory?
---
Last edited by KAWI3; 07-27-2018 at

10:19 PM

.
If it was burnt bad enough i could see it stopping power.

The voltage drop seems like it should work, but these can be a pain sometimes .....i use a car battery to up the amp draw and save the voltage drop.....i just use jumper cables, no car needed, just another good large battery to help.

Stator can be unplugged and it wont make/not make the bike run....They grey wire from the ignition switch is the anti theft wire, if it's showing voltage, then the ignition switch is still good.

If you crank the bike, the stator outputs between the 3 wires in any combo should be the same...i think in AC mode it shows the voltage.....if you get a zero or no reading in any of the combos that phase is dead, but the bike can run on 2 or the 3 phases, just not real good.
I had a similar issue with my GT 550 (check the thread for what I went through). Have you checked that you are getting a 'fire' signal from the ECU to the Coils? If you are then you should be getting a spark from the coils, unless they are dead. Have you checked the primary and secondary windings in the coils? A bad, or breaking down coil, will give problems that you have described.

All I can add further is that I came close to setting fire to my bike, but kept on and now I have a great bike to ride around town (albeit slow, heavy and crap brakes!)

Hope this helps in some way.
Jr. Member
Join Date: Jul 2018
Posts: 25
Thanks for the help fellas. @
badassjake
....I tried a car battery but the only situation that will turn the bike over at proper speed seemed to be a jump box. Im not sure if the rectifier and stator are unplugged if the bike will get spark there are some arguments about this I guess Ill know when the rectifier shows up. The grey wire shows 6 volts like it should but then drops to 5 when cranking, im not sure if a safety lockout is dropping the voltage or my power supply is not quite sufficient. Cranking the bike with a faulty rectifier would not produce spark imo because the power flows through the battery to the rectifier and then supplies power to the ignition from a brown wire (highlighted). Please tell me your thoughts on this after reviewing the diagram i have posted. @
rainbirdb
....Please verify where to check for this signal and i will do that. I do have 12 volts at the coils and have tested the primary and secondary windings, however that was the first time I have ever done that so could have made a rookie mistake, plus, i dont think all4 coils would go bad at once in my experience. Any input helps a ton as after a while your mind tends to get stuck on stupid and other views will help me get spark and hopefully get it running after i clean the carbs. The oil looked milky, i hope it was just moisture buildup and not a blown headgasket otherwise me and the mad scientist have to rip apart the block and replace the piston rings he fried.
reference/click where it says the fast and the furious for some good memories RIP PAUL WALKER
Here i have highlighted the rectifier power input and output to the ignition, if anyone can review and confirm that a zx6r will not produce spark without a rectifier unless push started let me know!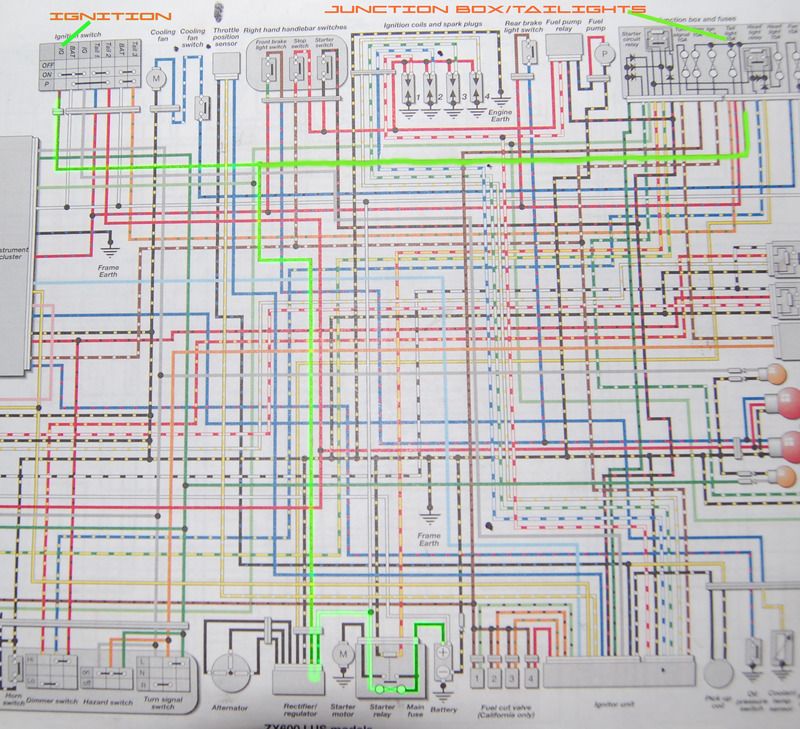 I have no tailights or neutral light so from my research it may be just the rectifier problem.
---
Last edited by KAWI3; 07-28-2018 at

12:08 PM

.
You should be able to see the wires that connect to the coils from the CDI. In my manual (for GT / KZ 550) there is a test routine for the CDI / Ignitor that allows you to check that everything is working on the CDI side. Just read your post again, looks as though you have checked the wire to the coils (usually black / green)

Have you checked the connections to the CDI. These can become corroded giving poor connections, especially if the bike is used in damp conditions. You may have to also clean the spade connections on the CDI if these are also corroded. You can buy the connection blocks and connectors of ebay if yours are too badly corroded.

I am not sure about your bike, but I have had other bikes with failed reg / recs and they all start, but will not charge.
Jr. Member
Join Date: Jul 2018
Posts: 25
@
rainbirdb
Yes, i have cleaned all the connections to the CDI. I havent pulled the connections apart inside the connectors and cleaned that, however i dont think its that. Also, the previous owners mechanic replaced the wiring harness so i have 2 and have swapped them out time and time again looking for the gremlin.
at ECU all wires GOING IN SMALL CONNECTOR I have 12= volts except the black and yellow ground wire
The black and green wire reads .40 no matter where you test it.
at ECU GOING OUT LARGE CONNECTOR I have no volts going out at all except grey wire at 6.13 volts that drops while cranking to 5.00
the green and black wire going out from ecu reads .40
so there is no voltage coming out of ecu when cranking or when just key on except the grey wire at 6.00 and the black and green wire at .40
leads me to believe the ecu is shot but there is writing on it from ebay like it has been replaced.
The brown wire from the rectifier clearly goes to the ignition and tailights and that is what makes me think that without power supplied to that wire the ignition and lights will not operate, I have no tailights or ignition at this time which leads me to believe this bike cannot fire without a properly working rectifier to send the power to the ignition, however i have been wrong many times while troubleshooting, I guess that is why is called trouble "shooting" instead of trouble "hitting"
THANKS. and maybe someone can deny or confirm that a 2000 zx6r cannot produce spark without a properly operating rectifier and stator through the normal ignition process.
edit; diode check for existing rectifier checks out. rectifier is probably not bad. just melted the connection.
460 or something ohm resistance on pick up coil
i read that the grey wire needs EXACTLY 6 volts to ecu to fire. I have 6 until i crank the bike then it drops to 5.
i think this is my problem im going to buy a 6 volt battery and hardwire it to the ecu and see if i get spark.
---
Last edited by KAWI3; 07-28-2018 at

03:16 PM

.
Jr. Member
Join Date: Jul 2018
Posts: 25
wired a 100 ohm resistor bridging the brown and grey wires at ignition harness, brought the signal at ecu to about 8 because it was 1/8 watt instead of a 1/4 watt.
rewiring another in tandem to get 1/4 watt and see what happens
all signals pint to ignition switch or possibly stator/ will try to push start it to see if its the stator.
will get a 6v volt battery today and provide a constant 6 volts to ecu to see if that makes it spark.
edit; i have lights.ignition harness was boogered up/problem 1 solved
still no spark but i have lights....ohh the little victories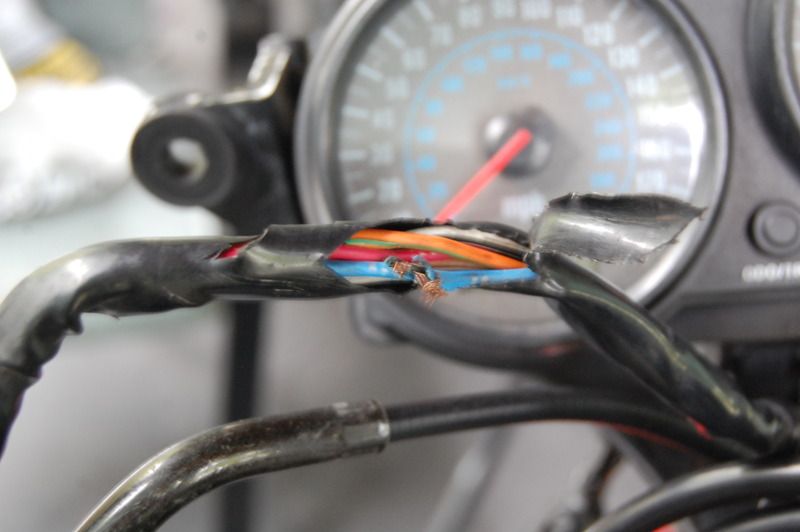 @
rainbirdb
thanks i rechecked all my connections at ecu and one was pushed to the side..the ignition one. bent it back up and no spark but now i have 10+ volts at black and green wire at ecu and at junction box.
black and blue wire and black and yellow wire are showing no voltage at ecu when key on and when cranking.....those are the wires that lead to the pick up coil. hence no spark.
does that mean the pick up coil is not working or does it mean there is no voltage supplied to it? i have checked it with a ohm meter and it reads at 460
feel like im getting closer and by the end of this Im pretty sure I will be able to diagnose any electrical problem on this model that could possible exist
---
Last edited by KAWI3; 07-29-2018 at

05:28 PM

.
When I had the same sort of issues on my GT, I checked the pickup coils and found that the casing / housing was full up with years of street crud. Best to take off the casing and check that the faces of the pickups are clean and not corroded. If there is no signal being sent from the pick-up coils (which are basically an on-off switch for the main coils) then there will be no way that the coils will fire. You can check the pick-ups on the bike, but I took mine off as then you can fully inspect the wiring, etc for damage.

I ended up re-wiring most of the electrical connections. It's not as expensive or daunting as it may seem and gives peace of mind for the future.

You seem really close to solving the issue, so keep us updated.
Jr. Member
Join Date: Jul 2018
Posts: 25
@
rainbirdb
Are you a mechanic? or do you just enjoy figuring out riddles? At any rate thank you for the help i will pay it forward for sure.
I have been inside the pickup coil cover twice, and the pickup coil circle that faces the rotor looks clean and shiny, however the rotor faces were not as clean as i would like, i will clean them today with some high grit sandpaper. I did get some small readings coming out of the coil wires when cranking the bike, if I remember it was 1.9 ACV.
I do not have any DCV readings at the black and blue wires at the ECU when key on/ and while cranking. Im not sure what this means yet, I will recheck that for ACV readings today as well.
I have read that your stator can check out for continuity but inside the cover gunk and buildup will still prevent spark, so i will do a visual inspection of the stator and clean it with brake cleaner, ive heard this may work.
Until then, I have a new used cdi on the way and a new/used rectifier on the way and I hate to throw parts at anything, but the rectifier was burnt through at the wires, so 20 bucks wont make me feel incompetent, and without the proper manual and even with it, some dealerships cannot even test the CDI accurately, so might as well swap another in and try.
Im thinking stator or cdi at this point
I have worked on many bikes, as you have ....this one has more than one problem to solve and has proved most challenging. We have solved a few problems with the moto I hope we can solve the rest.
Thanks again
edit, have new rectifier on. now i have power going to stator from the rectifier plug that goes to the stator. the old rectifier supplied no power at all to the stator.
so the old rectifier is confirmed faulty.
problem 3 solved.
still no spark, but i only had 11.43 to cdi , waiting on full battery charge to try again.
---
Last edited by KAWI3; 07-30-2018 at

11:23 AM

.
Posting Rules

You may not post new threads

You may not post replies

You may not post attachments

You may not edit your posts

---

HTML code is Off

---